A New Harmony: Equity, Access, and Belonging
View the A New Harmony Workbook Vol I – PDF.
OR request a printable workbook. This version is accessible for a screen reader.
New Harmony Toolbox - Downloadable Discussion Handouts from the workbook for your chorus conversations.
A New Harmony Workbook Vol II is nearly completed with topics based on requests from our work with GALA choirs, including:
Intergenerational Dynamics

Digital Accessibility

Mental Health and Neurodiversity

Conversations on Faith and Religion

Grappling with Exceptionalism
Need assistance with New Harmony facilitation? See the attached New Harmony task force description to read about the types of services available. Not sure where to start? GALA Choruses members may request free assistance.
GALA choruses have a unique opportunity to explore issues of equity, access and belonging because our choruses offer more than just a place to sing: they are also communities of belonging.
GALA Choruses has designed a new workbook to help explore these conversations. Early drafts focused on a model called DEI: Diversity, Equity and Inclusion. But we realized we could create a new way to frame this conversation without using the word "diversity", which is overused today, or "inclusion" which innately infers that some people are in and others are out.
It is the belief of GALA Choruses that these topics are valuable for every member chorus. We hope that these conversations will inspire and launch your chorus on a journey toward equity, access and belonging.
The following tabs contain additional resources for further conversation.
A New Harmony: Equity, Access, Belonging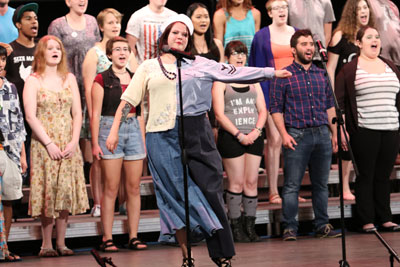 Transgender Voices
Explore video shorts, workshops and resources for transgender singers and voice teachers/conductors working with trans and non-binary singers.
"We live in a world of rapidly changing demographics. Building a chorus that truly reflects the community in which your chorus lives is a revolutionary act that can ensure your chorus' health and well-being for decades."
– Maria-Elena Grant, GALA Board Member
Infiltration
AORTA explores how oppressive systems can infiltrate non-profit organizations.