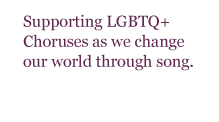 Join international LGBTQ choruses from around the world in celebration of the International Day Against Homophobia, Transphobia and Biphobia. Thank you to the Global Alliance of Queer Choirs for partnership in this event! Get tickets at https://galachoruses.streamallytix.com/.
June 1 at www.queerchoirs.org

A New Harmony: Equity, Access, and Belonging
GALA Choruses joins our LGBTQ+ family around the world in support of the LGBTQ+ community in Ukraine. Learn what you can do to help from Legato Choirs.

Celebrate Our Member Chorus Anniversaries:
Hartford Gay Men's Chorus
Des Moines Gay Men's Chorus
Rhode Island Gay Men's Chorus
New Jersey Gay Men's Chorus
l'Ensemble Vocal Ganymede
Sacramento Women's Chorus
New Wave Singers of Baltimore
Harrisburg Gay Men's Chorus
Connecticut Gay Men's Chorus
Gay Men's Chorus of Washington
Philadelphia Gay Men's Chorus