---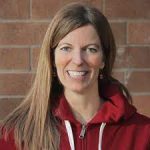 Jody Malone
She/Her
Toronto, ON, Canada
Jody Malone has been our longest standing Artistic Director at Singing OUT, having been with us since September 2008.
Jody completed at McGill University a Bachelor of Music, with an Honours in Music Education, majoring in Piano. She earned her Teacher's College degree in Music and French from the University of Toronto. Following this, she went on to complete a Master's Degree in Education in Counselling Psychology at the University of Toronto. This degree particularly equips Jody to understand the depth and meaning of singing to people, as well as technique needs of the adult community choir learner.
Since 1987, Jody has been a music teacher and choral conductor with the Peel District School Board of Toronto. She is currently teaching at Cawthra Park Secondary School for the Performing Arts.
When Jody is not working, she is travelling with her family or friends. When she is at home in Parkdale, she enjoys reading for Book Club, listening to new repertoire, cycling, walking, or practicing yoga. She loves to attend plays, musicals, the Toronto Symphony with her sister, and the monthly documentary series 'Doc Soup', with her partner.Jody was inspired by this quote in her formative years. "I am a great believer in luck and I find the harder I work, the more I have of it." -Stephen Leacock