LGBTQ+ Streaming Choir Concerts - GALA Pride 2020: Staying In, Singing Out
Streaming Online — June 30 and July 8, 2020 at 8pm(EST)/7pm(CST)/6pm(MT)/5pm(PCT)
GALA Choruses is excited to host GALA Pride 2020: Staying In, Singing Out. This two-part online event will stream on June 30 and July 8, 2020, at 8pm(EST) at https://galachoruses.org/live and will be available to view after that date. The concert features songs from 27 LGBTQ+ choruses across North America connected by interviews with conductors and composers. The concerts celebrate LGBTQ Pride along with themed sets exploring GALA choruses as a place of belonging, standing together in times of crisis, and addressing social justice as a singing community.
Though we cannot sing together in person during the COVID-19 pandemic, GALA Choruses stands in solidarity as we change the world through song. The July 8 concert marks what would have been the closing ceremonies for GALA Festival 2020 in Minneapolis. We look forward to the day, when we will sing together again!
GALA Choruses is so grateful to all the amazing artists who made GALA Pride: Staying In, Singing Out possible! If you are able, please consider a donation. All donations during Pride 2020 will support Black-lead organizations for Trans* BIPOC.
Concerts will include selections from the following groups:
Concert 1 on June 30 — ANNA Crusis Women's Choir, The Queen's Singers of Cincinnati Men's Chorus, Rainbow Harmony Project, Boston Gay Men's Chorus, Austin Gay Men's Chorus, Phoenix: Colorado's Trans Community Choir, Gay Asian Pacific Alliance Men's Chorus, Columbus Gay Men's Chorus, GenOUT Youth Chorus, One Voice Mixed Chorus, Denver Women's Chorus, Golden Gate Men's Chorus, Denver Gay Men's Chorus, and Youth Pride Chorus.
Concert 2 on July 8 — San Francisco Gay Men's Chorus, New York City Gay Men's Chorus, Bridging Voices Youth Chorus, Halifax Gay Men's Chorus, OurSong: The Atlanta Gay and Lesbian Chorus, San Diego Women's Chorus, Lavender Light Gospel Choir, Indianapolis Women's Chorus, The Rainbow Chorale of Delaware, Dayton Gay Men's Chorus, Trans Chorus of Los Angeles, Portland Lesbian Choir, Seattle Men & Women's Choruses , and The Lesbian/Gay Chorus of San Francisco
Hashtag - #GALAPRIDE
Download concert lyrics.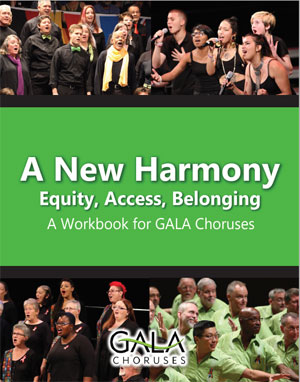 Stepping Up for Racial Justice
GALA choruses have a unique opportunity to explore issues of equity, access and belonging during this time of quarantine and beyond. The New Harmony section of the Resource Center offers a free workbook for LGBTQ+ choirs and a link to the June workshop on this topic.