Music Educators, Voice Teachers – Supporting LGBTQ+ Singers
Music educators and voice teachers are asking for resources to support gay, lesbian, bisexual, transgender and gender nonbinary students in the classroom and voice studio, so these resources are for you!
Singing can be a vulnerable experience for youth, and especially for queer youth. You as a teacher or conductor can play a huge role in supporting singers and creating an inclusive, safe space in your chorus.  Be sure to peruse GALA's  new curriculum resources .  Need a quick resource for your chorus? View  Creating Inclusive Choirs.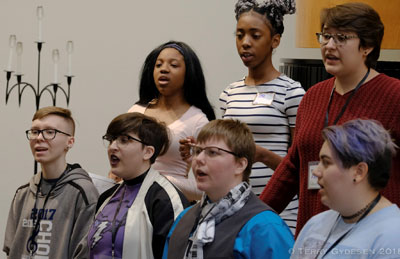 Video Central Shorts
A Place in the Choir (6:23 min)
Trans singer Kris Zurn explores his voice with teacher, Sue Zemlin.
Exploring Trans Voice (3:05 min)
Trans and nonbinary singers on the topic of voice.
Finding a Voice (4:37 min)
Voice clinician Lisa Butcher shares her journey coaching transgender singers.
The Reason for the Festival (7:03 min)
A conductor's journey to learn about trans voices and the birth of the Transgender Voices Festival!