Our choruses are beginning to plan their return to live rehearsals. Download these tools to assist with your live rehearsal and performance planning:
GALA Choruses' April 15 Back to the Future webinar explores planning your return to live rehearsals and performances, legal and liability issues, and re-connecting with singers and audience. View the webinar.
The resources below explore the latest research and includes creative rehearsal options from GALA artistic directors. Note the new tips for Singing Outside.
The sections above on protocols and social distancing come from a recent article by Dr. Timothy Seelig, Artistic Director, San Francisco Gay Men's Chorus. Explore the full article: Choral Singing in the Time of COVID-19 - PDF
Germany Rules for Singing Ban - PDF
Three Potential Futures for Covid-19 – PDF
A 30-minute interview with Dr. Anthony Fauci, covering the following topics that are relevant to choruses and the performing arts.
Before planning a live event, review the current Centers for Disease Control Guidance for Organizing Large Events and Gatherings here.
The National Endowment for the Arts provides this tip-sheet of practices for re-engaging with audiences.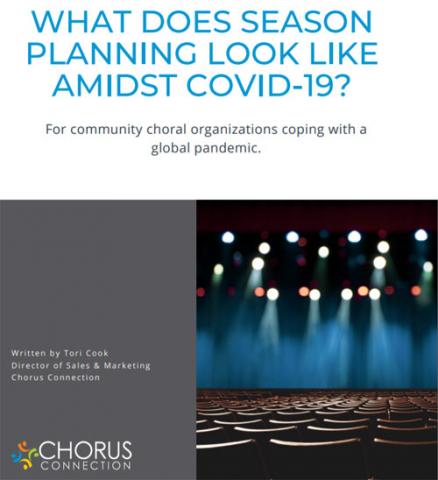 Chorus Connection has created an excellent planning guide for community choral organizations coping with a global pandemic. They are asking that you enter your email address so they can follow up for feedback but this is a free download.
On May 5, 2020 an expert panel assembled by the National Association of Teachers of Singing (NATS) hosted a webinar of vocal experts. Watch the full webinar above or read the sobering summary by Zach Finkelstein.
Dr. Lucinda Halstead, the president of the Performing Arts Medical Association concluded that there is no safe way for singers to rehearse together until there is a COVID-19 vaccine and a 95% effective treatment in place, in her estimates at least 18-24 months away.