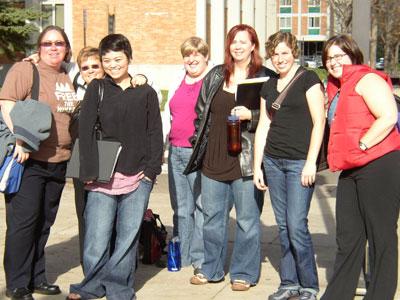 Not holding rehearsals right now? Check out the other ways that your chorus can maintain Connection & Community.
For GALA singers, a chance to meet and sing once a week offers solace, joy and a sense of community. Many GALA choirs are currently offering weekly sectionals, full chorus rehearsals and opportunities for members to connect socially through virtual platforms.
The detailed instructions below are designed for a virtual rehearsal using Zoom but a list of other video platforms is available at the end of the document. Keep in mind that singers and directors alike will need to modify expectations for rehearsals. Working on blend and balance will not be possible, but learning notes, creating community and hosting a place for sharing is very possible and very important. Read on!
Preparing for your Zoom Rehearsal
Sign up for a Zoom account. There are free options but if you have a chorus larger than 100 you'll need to pay a monthly fee.
Set up your Zoom meeting and email Zoom meeting links to Singers. Participants can use either the Zoom website or the Zoom mobile app on a phone. The invite email should also include a phone-in option and the "help" phone number described below.
Secure a tech savvy "help" volunteer on standby via a free conference call number to assist singers who need help logging on the first time, finding their mic or video button, chat feature or other obstacles.
Assign a volunteer to monitor the Zoom chat line for questions. They should be able to weed out the most relevant questions and track the others for email follow-up after the rehearsal.
Plan a test run rehearsal with your section leaders or a small group of singers.
Send instructions to section leaders, giving them specifics to work on with their sections.
Send weekly homework assignments to chorus members listing what parts of songs to listen to, and what sections of music they can learn on their own.
Sample Virtual Rehearsal Outline
Plan your virtual rehearsal very carefully. Include social time, sectionals, announcements, etc. Some choirs are rehearsing for a full two hours but many are limiting virtual rehearsals to 60-75 minutes.
Know that virtual rehearsals work best for learning notes and rhythms. Singers will not be able to hear each other and it will be nearly impossible to work on blend or musical nuance.
7:00 pm Log-in
Plan for extra time at the first rehearsal
Have two recordings of relatively familiar chorus songs cued up to play while singers are getting oriented and logging on. Invite them to sing along on their own part.
7:10 pm Welcome and an upbeat message, outline of the evening (mute all singers)
At the first rehearsal give everyone an orientation to how the CHAT function works, how to view just the leader or the entire gallery of singers, how the mics and video options work.
7:15 pm Vocal warm-ups, talk about vocal health and lead some vocal warm-ups
7:25 pm Announcements or check-ins with everyone while singers are divided into breakout rooms for sectionals
7:30 pm Sectionals with the section leaders on pre-assigned sections and repertoire (mics open)
8:15 pm Close break out groups and return to full group (mute singer mics)
Sing through each song rehearsed in sectionals with accompanist playing or via rehearsal track accompaniment. See below for suggestions.
Q&A with musical questions
8:45 pm Social time, sharing
9:00 pm Rehearsal ends
Because everyone's connection is at a slightly different speed there is no way to actually sing together or hear each other. While it's a little strange to not be able to hear anyone, it also forces singers to become more independent. So, mute everyone!
When working on parts, the AD or section leader sings the part while everyone sings along (muted of course). Once everyone is comfortable with their part, the leader might play a rehearsal recording with all parts, continuing to sing along with their section. This allows for hearing the rest of the parts, and singers have a visual of the section leader singing. See Accompaniment Options below.
Use the CHAT feature to answer questions. Assign someone else to monitor, read and ask questions while you are directing since everyone else will be muted.
Use the "break out rooms" function in Zoom to divide into smaller groups or sectionals. Whoever is logged in as administrator can assign people to rooms. Zoom can also create random breakout rooms to foster conversation and discussion in smaller groups.
Plan a Q and A time to talk about the music as well as check-in with each other.
Zoom can record the session so you can post it afterward for people who couldn't attend in real-time.
The RAMA Vocal Center has posted some helpful videos demonstrating how they set up Zoom for choral rehearsals.
Additional Tricks and Tips for ADs and Section Leaders
Close ALL other apps on your computer. Your browser should be the only thing open.
Use headphones and never a Bluetooth speaker (which will exacerbate latency issues). Use a wired mic, if possible. See more detail here and in "studio set-up" below.
Don't bother using any physical gesture in teaching/conducting. Just rely on audio cues.
Try rehearsing small sections of a piece at a time than singing through an entire piece.
Participants can either focus on the active speaker or see everyone via gallery view (for a more social experience).
If you have a small chorus, you might periodically unmute the singers' mics for questions and to provide a few minutes for people to talk to one another.
Zoom also gives you the option of launching single or multiple-choice polling questions. Use them to gather feedback about your rehearsals or ideas for upcoming sessions.
You can use Zoom and then stream to YouTube live as long as you have a YouTube account. This is useful if folks can't participate in the Zoom rehearsals. See details below.
AD plays a recording of the song while everyone sings along on their own part.
An accompanist can play through the pieces with everyone singing along (muted). You won't be able to conduct because of the lag time – assuming you are in a different location.
AD or Section Leader plays accompaniment or parts via a rehearsal track or midi file.
Here is a great way to mix your live sound with practice tracks playing from your computer at the same time. Set up your computer so it can play the track while video-conferencing. See this article for details.
If you do want to hear a singer, you can unmute them but you will need to have them set their setting to "preserve original sound" to prevent distortion. Note: if this doesn't work go to Your Account Settings: near the bottom of the list select "Allow users to select original sound in their client settings" and "Allow users to select original sound during a meeting". Tutorial here.
NOTE: If you want to be able to send the computer audio directly through Zoom AND also be able to use your studio mic setup live, then you need to split the signal. Here's how to do it:
To play a YouTube file during a rehearsal:
In your Zoom session, click Share
Click the YouTube window in the display of open windows
Click the "Share Computer Sound" in the lower left
Turn on the "original sound" setting otherwise the video audio will be garbled.
Zoom PRO: The desktop/laptop version of the app allows for "MUSIC MODE" which greatly improves the sound quality for music!!!! Watch this tutorial (not available for tablets or phones at this time)
Go to Audio > Advanced
Check 'Show in-meeting option to "Enable Original Sound" from microphone.'
Set "Suppress Persistent Background Noise" to "Disabled."
Set "Suppress Intermittent Background Noise" to "Disabled."
Ensure "Echo Cancellation" is set to "Auto."
William Southerland offered this virtual rehearsal set-up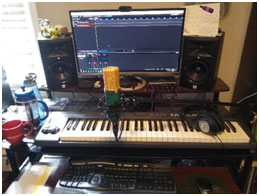 Zoom does some major echo cancellation and other compression stuff that makes music sound like crap. So, you have to turn on "Original Sound" to fix that problem (and wear HEADPHONES!). Here's info on how that works.
Full studio Set Up: I have a small 2 channel USB mic input, a decent microphone, headphones, and a midi controller. I can do fab sounding recordings in here, but the bigger issue was getting the sound into Zoom, bypassing the microphone.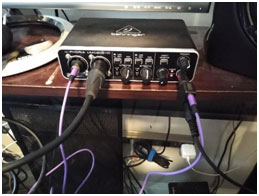 So what I did was "loopback" sending using a splitter to send the sound from the headphone output back into one of the mic inputs. Now, I can use the 202HD as the "microphone" in Zoom and it will pick up both the microphone and the audio coming out of my computer (the midi controller / synth and any recordings I playback. If you have a separate keyboard, you could just plug that into the first port and it would work just fine, but you won't be able to playback sound files as easily.
From Mary McCarty (Portland Lesbian Choir): Alternately, you can play sound files directly to the Zoom session using the 'share' function. When you share the sound file, click the lower left checkbox - Share Computer Sound. Note, you can use this option only if you are sharing a single screen. The sound file goes directly to the participants without speaker/mic interfaces interfering.
NOTE: "Zoom's Share Computer Sound" may broadcast sound from sound files, etc., but it doesn't broadcast the piano sound from my mixing/MIDI software. A colleague and I played with it for a half hour yesterday. The only way I could make the midi controller come through was using the loopback.
(Super techy note: this is probably because I use ASIO drivers for my midi controller so the playback latency is tolerable, otherwise there's a quarter second delay between key press and piano sound. But, either way, the loopback was the only way it works for me).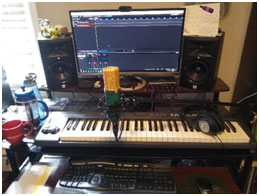 I don't think folks using tracks and a webcam mic would need to worry about it.
Speaking of synth, I'm using Mixcraft 9.0, which is basically fancier Garageband for PCs. It has terrific sounding samples so the little "piano" on my desk can sound like anything I want it to.
Hopefully this helps somebody out there. If I can help you setup or think through your own virtual rehearsal technology issues, drop me an email.
Zoom seems to be the most user friendly. Added expense if you want to
Cisco Webex: worked really well and had more options. They are currently offering a free 4-month trial. Conference option. Webinar option (limits participant involvement)
Facebook Live did not work well – although see Daniel Arredondo's post below.
Harmony Helper - mixed results and bad with complicated or faster rhythms. Also will not pick up tempo change.
Check out the MN Band directors assessment of rehearsal app options
How to Share Ipad for Zoom Rehearsal - pdf
Zoom has referenced some security issues mostly involving people randomly joining and disrupting Zoom sessions or sharing disturbing language/images via their audio, camera, or screenshare. These issues are simple to guard against.
The "hijackers" cannot take control of anyone's computers, devices, or personal information. If you follow the guidelines below and edit settings so that people who join the call do not have automatic permission to screen share, activate video, or activate audio, your chorus can mitigate the threat of hijackers.
Below is the FBI recommendations to keep Zoom sessions safe:
Do not make meetings or breakout rooms public. In Zoom, there are two options to make a meeting private: require a meeting password or use the waiting room feature and control the admittance of guests. The waiting room option will be easier for your singers – otherwise they need to track and use a password to join your rehearsal. With a waiting room the host simply admits each individuals with a click as they arrive.
Do not share a link to a teleconference or classroom on an unrestricted publicly available social media post. Provide the link directly to your singers.
Manage screensharing options. In Zoom, change screensharing to "Host Only."
Ensure users are using the updated version of remote access/meeting applications. In January 2020, Zoom updated their software and added default passwords for meetings and disabled the ability to randomly scan for meetings to join.
Lastly, ensure that your organization's telework policy or guide addresses requirements for physical and information security.
This release by the FBI offers additional detail.
Using Zoom to live stream through YouTube
Enabling YouTube Live Streaming for Meetings – support document here
Account Level
To enable all members of your organization to live stream meetings on Youtube:
Sign in to the Zoom web portal as an administrator with the privilege to edit account settings.
Click Account Management > Account Settings .
Toggle the Allow live streaming the meetings under In Meeting (Advanced), and enable Youtube.
(Optional) If you want to make this setting mandatory for all users in your account, click the lock icon, and then click Lock to confirm the setting.
Group Level
To enable all members of a specific group to live stream meetings on Youtube:
Sign in to the Zoom web portal as an administrator with the privilege to edit groups.
Click User Management > Group Management .
Click the name of the group, then click the Settings tab.
Toggle the Allow live streaming the meetings under In Meeting (Advanced), and enable Youtube.

Note: If the option is grayed out, it has been locked at the Account level and needs to be changed at that level.

(Optional) If you want to make this setting mandatory for all users in this group, click the lock icon and then click Lock to confirm the setting.
User Level
To enable live streaming for the meetings that you host on Youtube:
Sign in to the Zoom web portal.
Click Account Management > Account Settings (if you are an account administrator) or Settings (if you are an account member).
Toggle Allow live streaming the meetings under In Meeting (Advanced), and enable Youtube.

Note: If the option is grayed out, it has been locked at either the Group or Account level, and you will need to contact your Zoom administrator to make changes.
Mary McCarty, AD of The Portland Lesbian Choir: plchoirdirector@gmail.com
We have had one weekly rehearsal and two sectionals using Zoom. Our membership is thrilled to be able to see each other, chat a bit, and make some music. Yesterday, we had 26 tenors at our sectional (typical sectional attendance is 10 or so).
Daniel Arredondo, AD of the Austin Gay Men's Chorus: ad@austingaymenschorus.org
We had a very successful sectional and social hangout last night with our members! I'll keep this short and sweet but wanted to share.
We created a public facebook page so any member could see the live feed and I called it a virtual choir room 🙂 I was on there the whole time and did a 30 minute sectional with each voice part (TTBB) from 7-9PM. I went over diction, phrasing, and we listened to a track of their part (which I broadcasted) for two songs. One person managed comments where I was in case something went terribly wrong.
We also set up a zoom meeting for social hangout by section, but you could be on there at any time...except during your sectional ha ha!
We are getting feedback today, but overall, everyone was excited to get some musical interaction and stimulation and then to see one another and just hang out. I wish I could have seen their beautiful faces, but it was better as a director to just do my thing and not be distracted for the musical part and socialize after.
It did take time and you do need some equipment and tech help to work out the video and audio delays, etc. but it can be done and not be too costly. If you are interested in more info, I'd be happy to share.
Jane Ramseyer Miller, AD of One Voice Mixed Chorus (MN): ArtisticDirector@OneVoiceMN.org
Since our June concert has been cancelled we have launched Monday Night LIVE! The first Monday night we brought the chorus up to speed on the sad news of concert cancelling and what the staff is currently working on. Then we used the Zoom work groups to have small group brainstorming about how singers want to connect via Zoom on Monday nights. Future plans include:
Virtual voice lessons
Some part learning for music next season
A poetry night – with original submissions from singers
No Talent night
Breakout rooms with skill building like music reading, drumming, warm-ups, how to play the uke, songwriting etc.
And dozens of other really fun ideas.
Sean Baugh, AD of Turtle Creek Chorale: sbaugh@turtlecreek.org
We opted out of a virtual rehearsal (for now), and instead held a Virtual Town Hall last night for members to ask questions, share what they are feeling, and generally feel a sense of belonging. Staff and Leadership Team acted as panelists. It was very successful, and with over 100 folks joining in, was remarkably smooth.
We used WebEx Events - Events gives you more control over large audiences - I.e. their cameras are off, and muted until someone unmutes them, they are limited on what they can do in the app, etc.
We gave some updates, then asked members if they had questions. WebEx gives you a little "hang raise" option, and our moderator would unmute their microphone. It was crystal clear. They could also ask questions via the text-based Q&A in the app. We met for an hour, and the feedback has been quite positive.
Thank you to: Miriam Davidson, William Southerland, Eric Lane Barnes, Mary McCarty, Wendy Moy, and Jane Ramseyer Miller
In addition to the above, many choruses are finding success with synchronous online singing using platforms such as Jamulus, JackTrip, or SoundJack.
Here is a montage from New Jersey Gay Men's Chorus using SoundJack (audio) and LiveLab (video) This is a Facebook page for SoundJack users.
Please contact us if you'd like more information, and our Artistic Advisor can point you in the right direction!