Resources for Surviving COVID
The essence of a choral community is connection and in-person engagement. For all of us striving to maintain frequent connections for rehearsals and performances, the threat of COVID-19 is profound. It has implications for our community's health and well-being, our finances, our artistic sensibility, and our social justice missions. How can we help each other stay healthy, make music and keep our audiences engaged? – Miriam Davidson, Anna Crusis Women's Chorus
This section of the GALA Resource Center offers tools for the practicalities faced by choirs during Covid-19 but also includes resources to help your chorus connect as a community.
For GALA choirs, singing together is important, but singing is only one element of our mission. Supporting each other, standing together in the face of opposition, and finding hope in the midst of challenge are a part of our shared history. We know how to be community for each other during this crisis!
Searching for tools to organize a rehearsal with your singers? Check out the Virtual Choir Rehearsals.
Concerts cancelled? Your chorus can still gather weekly for conversation, support, training and even for planning your upcoming fall season. See Connecting & Community.
Struggling to keep your chorus financially solvent during the quarantine? Read about the creative ways that choirs and non-profits across the world are designing in our Fundraising Resources section..
Your audiences don't need to be left in the dark. Explore these options for Streaming Concerts!
Join GALA Choruses leadership for an in-depth discussion of what the COVID-19 pandemic might mean for your chorus and for our future.
Back to the Future Webinar Recording
Latest Guidelines (CDC, ACDA)
The full joint statement from ACDA et al can be found here
Summarizing the latest CDC recommendations and results from the choral/singing-specific research ACDA has helped sponsor:
It is recommended that all eligible participants receive an FDA authorized vaccine.

If everyone in your group is fully vaccinated, the CDC says they can sing inside or outside without masks and without needing to follow the other protocols of distancing, ventilation, and so on. Exceptions would be people with compromised immune systems (early research is showing that vaccines are not as effective in building immunity for that group) or if your local city or state still has a mask mandate superseding the CDC recommendation. In sum, for rehearsals that include only fully vaccinated people, no masks or other protocols are necessary.
Pandemic data changes rapidly. Please check your local recommendations and guidelines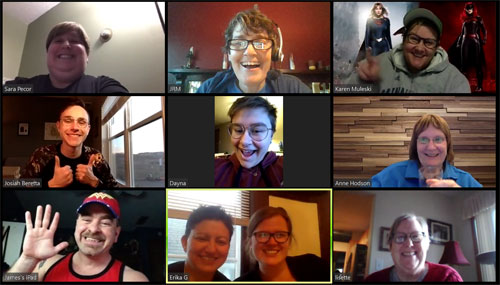 Fundraising Resources
Struggling to keep your chorus financially solvent during the quarantine? We have tips for VIRTUAL FUNDRAISING and links to apply for forgivable government loans here.