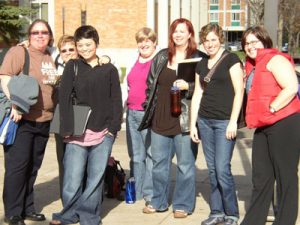 Not holding rehearsals right now? Check out the other ways that your chorus can maintain Connection & Community.
This section of the Chorus Manager Resource Center reviews some of the questions you should be asking about starting a GALA Chorus.
What Kind of Chorus Do We Want to Be?
You have multiple possibilities:TTBB, SSAA, SATB or a youth chorus. If your community is small, you might want to start a mixed chorus in order to include more singers.  Each type of chorus has its own personality. Your chorus is a reflection of the individuals involved, and will have a strong influence on your group's musical experience, for both the singers and the audience.
With the birth of your chorus, who are you planning to sing to and what kind of musical experience do you plan to give them? Some choruses exist primarily to perform at community events and benefits. Others produce a full-fledged concert season. Your chorus may choose to focus on a particular kind of music – gospel, classical, or showtunes, for instance. Each of these factors will establish your group identity and will be that all-important "first impression" people will have of your chorus. Remember that producing a concert includes finding music, booking a hall, arranging publicity, and many other things, which all require advance planning and support work. Your ideal might be to become a 300-voice Handel society, but be realistic about what kind of audience you will attract in your community. You might also consider spending your first year just making community appearances. This will free you from many of the hassles of concert production and allow you to focus more on building your ensemble, spreading the word about your group and building an audience base for the chorus. Once you've gained some performance experience, you might find that you're better prepared to produce your own concerts than you were when you're first starting out.
Is It Important that we use the words "gay" or "lesbian" in our name?
This is totally up to you and your organization. How do you want to fit into the community at large? Is your chorus comfortable with being strongly identified as a Gay or Lesbian group? Or do you want to be a strong music organization that also happens to be gay? Is it possible you will be recruiting non-gay people such as parents and friends into your chorus? Many choruses in the GALA network do not use the "G" and "L" words in their name but make it a point to include them in their mission statement and/or through their musical statements. Once your name is chosen you can always come back and add the words you were not comfortable with at the start.
Where Do We Find a Director and Accompanist?
If you have these critical assets already involved in the planning process, you're ahead of the game. If you are a group of singers or administrators that need a director/accompanist, contact local church musicians, college music departments, or even public school music teachers. They may be interested in working with you, or know someone who might be. If you hear of someone who is "very good, but is always very busy," don't be put off. The busiest people are the ones that can often find time for one more project, especially if they're sympathetic to your goals. Even if you plan to be a sing-gender chorus, focus on the musical range your chorus needs and not the gender of the musician. Welcoming voices and leadership from across a spectrum of gender identities can support your chorus' mission and reach.
Where Do We Find Singers?
The first step is usually getting the word out in your community that a new chorus is forming. Flyers, ads in local papers, posters, and public service announcements all work well toward getting the word out. You should also consider contacting other community groups to ask that they invite a representative from the chorus to speak briefly at their next meeting. To get ideas, look at what other groups in your community do to publicize their meetings or events. Be creative! Inexpensive ideas like business cards with the information about your first meetings or auditions can be an effective tool. If there are other events in your community that generate a large attendance, try using those as a venue for distributing your flyers or business cards. Pride celebrations, street fairs, or other events work well. If possible, have an information table and a sign-up sheet. It's important, whenever possible, to get names and phone numbers of interested people, then contact them; don't wait for them to contact you.
For more information about finding singers and holding auditions, visit the Artistic Director section of the GALA Resource Center under "Auditions."
How Should We Be Organized?
This depends on who you want to be in charge. Is your music director going to have full authority for selecting music and planning concerts? Can anyone else suggest music? Who can commit the group to a performance? Who can sign a contract? Some thought given to these questions in the beginning can save many headaches later on.
Some choruses are loose, informal associations, which operate by consensus or other decision-making models. Many have a Board of Directors, which follow clearly established procedures and policies.Make sure that your entire group understands and is comfortable with your proposed structure. Everybody is always happier if they know where the lines of communication are and who is responsible for what.
Should We Be Incorporated?
While no one structure is necessarily better than another, if your chorus is incorporated, the corporate entity which is created is responsible for any expenses or liabilities you incur. If you are not incorporated, you may be individually liable for things such as unpaid bills or legal expenses in the event your group is sued. Even if your group chooses to become incorporated, this does not mean you need to fall into a traditional "corporate" decision-making model. Many options are available to you and will depend on the incorporation requirements of your community. A local attorney may be able to advise you more specifically in this area. Some are willing to help a group get organized on a pro bono (without fee) basis.
Along with your articles of incorporation the organization will need bylaws. Review these example bylaws to get a sense of the topics usually covered.
What is Not-For-Profit Status?
"Not-for-profit status" means that the assets of your group are not distributed to any individual or individuals (such as shareholders). This does not mean you cannot make money on a concert! This does not mean you cannot pay your director or accompanist! It does mean you need to keep the proceeds in the organization, to be used in the future to help further your purpose. You may have to file income tax returns, but if you are approved as an exempt organization you will not have to pay any income taxes.
Not-for-profit status should also not be confused with tax-exempt status. "Tax-exempt" technically means that purchases you make for use by your organization are not subject to sales taxes. This status is determined by your state government. You usually need to have applied for Federal not-for-profit status to be eligible to be considered for state tax-exempt status.
In the U.S., you will need to contact your Secretary of State's office (or their equivalent) and find out about specific requirements for filing Articles of Incorporation and Bylaws for a not-for-profit organization. You will also need to contact the Internal Revenue Service and ask for Form 1023, and the other forms and instructions that accompany it. It is highly recommended that you read over the questions on this form before you finalize any bylaws or other organizational materials.  An example of a completed 501(c)(3) application can make this process easier.
In Canada, legal requirements are different than here in the U.S. For more information about registering your group as a charity in Canada, contact Revenue Canada at 1-800-267-2384. You can also write them: Charities Division, Revenue Canada, Taxation, 400 Cumberland Street, Ottawa, Ontario, K1A 0L8. Request the publication "Registering Your Charity For Income Tax Purposes," (also available in French), and Form T2050, the Application for Income Tax Registration for Canadian Amateur Athletic Associations and Canadian Charities.
Need Some Advice on Starting a Chorus?
GALA 411 Advisors are available to talk about starting up a new Chorus.  411 Program consultations are included in your membership fee.
Kathleen Hansen of the San Diego Women's Chorus is our Artistic Advisor, or Eve Campbell, formerly of Voices of Note in Atlanta is our Board Advisor.  You can request either Kathleen's of Eve's assistance through the 411 Program.