GALA Choruses are becoming known for outreach projects in our own communities and beyond. Below you will find outreach stories and testimonials, information about touring, school outreach and plenty of templates and resources shared by our member choruses.
In planning your outreach be proactive rather than reactive. Get your members involved in brainstorming and planning where you want to perform to best fulfill your mission. This Strategy Screen can be helpful in evaluating outreach requests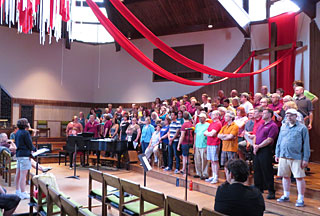 Changing Our World Through Song
One Voice Mixed Chorus was recently featured in a public television documentary featuring their outreach in greater Minnesota. Watch the short 6 min version.