(Choruses) tend to view fundraising as complicated, mysterious and scary. They assume they need to hire someone with appropriate credentials, as one would hire an accountant, plumber or lawyer.
Another assumption is that professional fundraisers show up with a list of rich people who always say yes, which means volunteers won't be forced into the awkward position of asking friends, family, neighbors, and coworkers for support.
But fundraising is really pretty simple. At its heart, it is one person asking another to get involved, provide help, take a stand, join a movement, to feel good. Yes, there are strategies and techniques, but they are far less important than the one quality you need to be successful: passion for the mission." – Andy Robinson, Big Gifts for Small Groups.
No matter what size and type of chorus you are establishing you will have initial expenses, not the least of which is purchasing music. Eventually you may have concert revenue to help out but how are you going to pay for the music needed for your first rehearsal? Are you willing to put the money up front yourself with the hopes of being reimbursed in the future, or simply donate the funds? You may want to find a few local sponsors such as a popular bar or community business to help with the initial costs. If you are really ambitious, your city government may have a grant program for which you could qualify. Most choruses have established some form of a membership dues structure to help pay for the daily operating expenses such as rent on a rehearsal site. Membership dues should be high enough to cover basic expenses for your day-to-day operations. If you strongly believe in your group and are truly energized by the possibilities, don't be afraid to ask for money. People will pick up on your enthusiasm and will want to be a part of your dream.
Telling the Story: Why You Should Support My Chorus
What is your story? Why should I, as a possible future donor, support your chorus? One document that will help you in answering this question is your own chorus case statement. A case statement is a document that provides rationale for supporting your organization. Below are two sample case statements used by choruses today.
Sample Chorus Case Statement 1

A development plan helps your organization identify fundraising goals and the tactics to reach those goals. The plan identifies deficiencies and areas of improvement and current strengths. This development plan can be for a single year or cover a range of years.
Sample Resource Development Three Year Plan

Fundraising 101
PDF
A sample pie chart that illustrates where all of an organization's revenues come from, and how chorus members can help bring in money for each category
Ways to fundraise are limited only by your imagination and available resources: but even with a very small number of volunteers you can have a great deal of success in raising funds for your Chorus. These are only a small number of examples of what you can do to raise money. A web search for "non profit fundraising" will return even more ideas.
Online Giving
Online giving is a great way to get the word out to prospective donors. Build a Facebook page that promotes your Chorus and get your singers to get the word out and have friends and family members "like" the page. Use Facebook status updates to announce a fundraising effort with a link to an online site for making donations or a phone number to call.
Use an online e-commerce system to manage online donations on your Chorus website. Services like
Mal's E-Commerce can provide you with ways to sell merchandise and take donations for your fundraising efforts.
Razoo.com is an online fundraising service that lets you "out-source" your entire online donation effort. You can create an account with Razoo and set up online donations through your website and Facebook page. You can also create specific fundraising or "crowd sourcing" events, such as an end-of-year campaign or a campaign to raise funds to produce a CD recording.
A Razoo.com account is required to participate in the annual day of online giving for LGBTQ organizations, Give OUT Day. Give OUT Day is a national initiative that will engage hundreds of organizations and mobilize thousands of people on a single day across the country to give in support of the lesbian, gay, bisexual, transgender & queer community. The first annual Give OUT Day was held in May 2013.
Online Shopping Websites
Online shopping websites such as
iGive.com and
goodsearch.com let your supporters shop online and raise money for your Chorus.
These websites partner with participating retailers such as the Gap, Best Buy, amazon.com – many retailers that your supporters may shop online from already – and a % of each purchase goes back to your Chorus.
Once you create an account, your supporters need to create their own accounts to shop through the portal and register their purchases to the charity of their choice: your Chorus!
Stage Asks
An appeal for financial support from the stage is an effective way of acquiring new donors from your audience. If you are printing a concert program, include a donor envelope addressed to your chorus that can be used either at the concert or later by mail. Include a form – or print on the inside of the envelope – a place for the donor to include personal information that you can add to your database.
A stage ask should be considered a part of the concert performance; careful consideration should be made for when is the most effective time for someone to make a brief announcement thanking the audience for their support and asking for financial contributions.
Direct Mail
Direct mail continues to be a popular and successful way of not only raising funds but keeping your donors up to date on what is happening with the organizations they support. Direct mail campaigns can help you do things like:
Find new donors (send a letter to first time concert goers)
Keeping existing donors up to date with what is happening in your chorus – including specific events that require funding (producing your next concert, renting a bus for a day-trip tour, etc.).
Engage lapsed donors who have not donated in awhile by sending them a letter that talks about what your chorus has been up to over the past year
An effective direct mail piece will give the donor some idea of what raised funds will be used for. It can start out with a thank you for past support – whether that support is by attending a concert for the first time or a previous donation. It should give the donor some updates on what your chorus has been doing over the past few weeks or months. And it of course should give a direct ask for financial support.
As you continue to build your donor database, look for more targeted direct mail opportunities:
Identify donors who have not made a donation in the current calendar year, but have donated in past years. Target these individuals for an "end of calendar year" campaign. Remind them about making a donation before the end of the calendar year for tax purposes.
Identify donors who give during a certain time of the year, and schedule a direct mail campaign for the same time of year each year.
Start to update your donor records with more personal information: when was the last time you personally talked to your donor? If you saw them at a concert, do they tend to talk more with your artistic director or your chorus manager? Consider a targeted direct mail campaign where some donors get letters from the chorus manager or executive director, and others get letters from your artistic director. Who are they more likely to respond to?
Hosted Receptions / Breakfasts / Dinners
You do not have to throw a lavish black-tie dinner to have a successful fundraising event. Here are some examples of fundraising events that have been successful for choruses:
Hosted Receptions: have a board member or chorus member host a reception in their home to learn more about your chorus. Guests will have a chance to meet chorus leadership and at some point in the evening an ask is made.
Bingo: Host a Bingo or other game of chance event. Make sure that you are following all required state laws and regulations.
Pancake Breakfasts / Wine Tastings: Partner with a local restaurant or bar to host fundraiser. Charge a small admission to attend.
Fundraising Breakfast: A successful alternative model to the fundraising dinner is the fundraising breakfast. The model has become successful for several reasons, including the accepted expectation that if you are invited to one of these breakfasts, you will be making some sort of a donation before you leave. The key to a successful breakfast is to hold it in the morning before most people go to work, and have them out the door in time to get to work either on time or just a little bit late. Provide some time for breakfast and a short program that talks about the chorus.
Fundraising Dinner: The fundraising dinner can be a successful event for your chorus, but one that can be much more expensive to do than other fundraising tactics. Many donors see the event as a "thank you" for their past support; new donors see it as an opportunity for a nice evening out and a chance to support a new charity.
50/50 Raffles
Some choruses will hold occasional 50/50 raffles, sometimes as often as each rehearsal. When arriving at rehearsal, singing members can purchase a raffle ticket for a set amount; it is up to you if you want to set a limit for the number of tickets purchased. During a break in rehearsal, the winning ticket is drawn. The singer who wins gets 50% of the collected proceeds and the other 50% goes to the chorus as a donation from singing membership.
...And Don't Forget to Say "Thank You"
Make a commitment to sending out appropriate "thank yous" to your donors as soon as possible after receiving a donation.
Send a thank you letter that includes a story of how their funds were used
Make a policy to send thank you cards to donors signed by singers and members of the board
Send thank you cards to donors who supported a day or overnight tour. Pass the cards around on the bus for all of the singers to sign while on tour.
Publish a list of your donors in your concert program
Sample Fundraising Collateral
A letter sent to the donor is still one of the most effective ways to generate individual donations for your chorus. With careful planning, a mailing can result in a successful fundraising campaign. We have included sample letters and other collateral that some of our GALA choruses have used to run successful fundraising campaigns.
As you download and review these samples, you will see that they all share most of these characteristics:
The letter is personalized. Based on the accuracy of your own donor spreadsheets or databases, we recommend a personalized letter using Mail Merge functionality in your word processing software, such as Microsoft Word.
The letter reminds the donor about what the chorus does. What is its mission? Did something happen recently that makes a great introduction for an ask?
The letter will often tell a personal story to create an emotional connection.
Some of the fundraising campaigns were set up ahead of time by reaching out to one or more donors to offer up a specific dollar amount to match.
The letter makes a specific ask. "Please make a $10 donation," "Please make a final year end donation," etc.
The letter explains what the money will be used for, how it will benefit the Chorus.
Some of these examples are letters sent out at the end of the calendar year. The message is to ask for one final donation; the donor benefits at tax time.
A return envelope is included for the donor's convenience.
If there is a way to donate online, the letter calls this out with the information the donor needs.
You look for as many opportunities in the letter as possible to thank the donor and acknowledge the value of their support.
We have also included a sample thank you letter; be sure you follow up each donation with a suitable thank you.
Boston Gay Men's Chorus
Gay Men's Chorus of Los Angeles
Gay Men's Chorus of Washington, DC
NYC Gay Men's Chorus
NYCGMC sent out a beautiful two-sided color tri-fold flyer for their end of calendar year campaign that emphasized a single chorus member's story, with a donor card inserted inside the flyer.
One Voice Mixed Chorus
Twin Cities Gay Men's Chorus
"All knowledge about fundraising can be summed up in ten words: "Ask 'em, thank 'em, ask 'em again, thank 'em again."
– Joan Flannagan, author of Successful Fundraising
How do you find donors? Start with who you already know: your singers, your staff, your Board of Directors. Who do they know? If your singers are inviting friends to see your concerts, perhaps these friends would be in your first group of donors.
Where do your singers work? Do they know co-workers who might want to donate?
Attend concert performances, museums, etc. and grab a copy of their program. Look at the list of donors who support these organizations. Do you know any of them?
If you do not have a LinkedIn account, create one today. Look for people you know and establish online connections with them. Use LinkedIn to search for names of donors in concert programs you collect. Leverage your existing relationships to get introductions.
And remember to have your chorus story ready to go for any opportunity to tell someone about your chorus!
Donor Levels
Consider using and advertising donor levels that acknowledge your donors' cumulative efforts in supporting your chorus. These donor levels are effective in categorizing your donors in concert programs based on their levels of giving and may give additional incentive for a donor to make a jump up in to the next level.
An example donor level list might look something like this:
Supporter – $25-$99
Sponsor – $100-$249
Patron – $250-$499
Conductor – $500-$999
Producer – $1,000-$2,499
Maestro – $2,500-$4,999
Virtuoso – $5,000 and above
Silver Baton – $10,000-$24,999
Gold Baton – $25,000 and above
Suggested Giving Levels
It is very helpful for a donor to understand how their donation impacts your chorus. Are there tangible benefits to your chorus from their donation? What would that $25 donation "buy" or do to support the Chorus? Consider creating a list of suggested giving levels that you can advertise on your website and other collateral used for fundraising.
An example suggested giving level list might look something like this:
$ 25: Sponsors the purchase of sheet music for one singer for a future concert performance.
$ 50: Supports one chorus member needing financial assistance for membership dues for one concert period.
$ 100: Sponsors the cost of postage for a mailing to our season subscribers.
$ 200: Sponsors piano tuning for one concert weekend.
$ 250: Sponsors the cost of box office staff for one concert at our performance venue.
$ 500: Sponsors the maintenance and hosting of our website for one year.
$ 1000: Sponsors ASL and stage management services for one concert.
$ 1500: Sponsors the rental of one bus for a day trip out-of-town performance.
$ 2500: Sponsors the purchase of published music for one concert for the chorus.
$ 5000: Sponsors a two-day overnight outreach tour for the Chorus, including bus transportation and accommodations.
As you continue to build your donor database, you will start to identify major donors who have either contributed large cumulative sums of money over a certain period of time, or who have made significant single gifts. Consider different strategies for how you interact with these major donors.
Host a special reception for your major donors, either hosted in the home of a singing or board member, in a private room at a local restaurant, before or after your concert
Invite major donors to attend rehearsals or other events to make them feel they have an insider view to what is happening with your chorus
A "planned gift" refers to an increased level of planning required for this type of a financial gift to your chorus. These gifts are generally a higher dollar gift, planned over a longer duration of time. Some nonprofit organizations will create entire planning giving committees at the board level to manage their planned giving program. You can offer planned giving as a fundraising option without needing the additional infrastructure.
Estate planning: Create a special level of donors just for individuals who name your chorus in their estate planning. Publicize this list. If you have lawyers and financial planners in your chorus, make sure they are aware of this giving option so they can share it with their clients.
Publicize planned giving in your concert program, newsletters, website – any place you have a public presence with your audience and supporters
A planned gift is complex in its make up; if you do not have experts within the chorus who can help advise donors about this level of giving, it will be up to the donor to have the financial planning resources available to them. Make sure you communicate to your donors that planned giving is an option.
What is the reach of a sponsorship? Be honest in your assessment: your chorus is probably not going to put on the number of performances to a large enough audience to make your organization of interest to a potential corporate sponsor. Sponsors want to get involved with organizations where their logo will be seen by the largest number of people. This does not mean that corporate sponsors cannot be found. Many corporations and companies will be interested in sponsoring you to show their involvement in the LGBTQ community. The amount of money you will be looking for to sponsor your concert or organization is likely to be much less than the dollars requested from major city theater companies, orchestras, etc.
Sample Corporate Sponsorship Slide Deck
PDF
A sample slide deck for presentation to prospective donors and sponsors, created by the Gay Men's Chorus of LA to promote sponsorship opportunities for their 34th season.
A grant is a financial gift or award given to an individual or charity. You can apply for a grant for a variety of purposes for your chorus: general operations, to fund a tour, to fund a concert, etc. Grants can come from many sources; you will want to look for a potential funder who will find your story relevant enough to support your work.
Grant sources include:
Local and state government agencies
Private foundations
Corporate foundations
Family foundations
Community foundations
Search online for potential grant sources in your area. Consult with singing and board members to see if their places of employment have foundations for awarding grants. Check out other arts and music events in town and check their programs for lists of foundations and agencies that support their work with grant dollars.
Grant calendar: Invest some time in assembling a grant calendar. As you conduct research, you will find out that there are specific deadlines for grant applications and reporting on how your grant dollars were spent. Maintain this calendar and refer to it as you are making your fundraising plans for the year.
Sample Grant Application and Narrative
PDF
A sample grant application and narrative.
Getting Grants for Your Chorus
PDF
A presentation by Mitch Menchaca, Executive Director City of Phoenix Office of Arts & Culture.
How do you keep track of your donors and their donation history? Are there ways to include your singers' contributions, audience members and their ticket purchases, etc.?
A variety of donor database solutions exist in the marketplace, with options tailored to the size of your organization's budget and list of donors.
Popular solutions with the larger choruses include Raiser's Edge, DonorPerfect, Patron Manager, eTapestry, Trail Blazer and Salesforce.
Choruses have also built their own solutions using legacy software like Microsoft Access and Filemaker Pro.
We recommend this link to help you learn about the options that are out there. The article lists current database solutions organized by small, medium and large organization size.
Remember that your GALA 411 Advisor team is also here to consult with you on your specific needs.
Fundraising Items Available Through GALA
Zulu Nyala Safari is a unique fundraising auction item – a South African Photo Safari for Two at Zulu Nyala Safaris. The auction item is for two people with 6 days and 6 nights lodging, 3 full meals daily and 2 guided game viewing activities daily with an experienced guide. The minimum bid. Is $2,500 and 50% of whatever the items sells for goes to Zulu Nyala and the other 50% is yours. The fair market value of the package is $5,950. No airfare is included. If interested go to www.SafariAuctionItem.com and scroll to the bottom of the page to have an auction packet mailed to you.
Tuscan Villa Rentals The villas are located in southern Tuscany in the hill town of Manciano. They are one week rentals and are only available through charity auctions. The first $2,000 goes to the owner and everything above that is yours. The fair market value of the package is $4,550. No airfare is included. Contact the GALA office at info@galachoruses.org for the contact information and paperwork required to offer this auction item.
Antigua Vacation Rental is an auction item for a 7 night stay for two people in a spacious 2 level garden villa just steps away from the blue waters and sandy beaches of Dickenson's Bay on the island of Antigua. The fair market value of the package is $2,400. The first $1,800 goes to the owner and anything above that is yours. Contact the GALA office at info@galachoruses.org for the contact information and paperwork required to offer this auction item.
Show Tune Showdown is a unique blend of friendly competitive performance rounds along with Broadway-themed musical trivia rounds. Three teams representing different arts organizations sing a selection of Broadway or off-Broadway show tunes in front of three local celebrity judges. But things get even more entertaining when the teams are challenged even further to get additional points in the Showdown rounds, where the team that guesses a song from trivia clues has to sing it with no rehearsal. If no team guesses the song, then it is the audience's turn as the lucky guesser sings a song on the spot and give the points to their favourite team. With an opening number by the host choir and a closing audience sing-along, it all adds up to one unforgettable evening. Review more information on producing a Show Tune Showdown and see if it can be a part of your fundraising plan.
Big Gay Sing is a fundraising event developed by the New York City Gay Men's Chorus designed to reach new audiences as well as fundraise. See the attached for a complete description of the event and helpful guidance on how to produce a Big Gay Sing.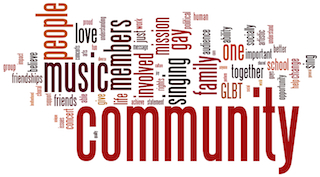 Word Clouds
Are you looking for a visual way to describe your chorus exercise? Websites like wordle.net can help you create "word clouds" that identify commonly used words in text. Ask your board members and singing members to describe in their own words why they belong in your chorus. Upload the results in to wordle.net and gain some insight in to what everyone in the chorus is thinking. This word cloud can be used to illustrate your chorus story when talking to donors, as well as generate additional internal discussion.