The Board Members section of the Resource Center provides a variety of example documents and links to help member chorus board members better serve their choruses.
What are the keys to building a strong board and maintaining it?  How should our strategic plan be driving our day-to-day activities?  Why is it important to run a constructive, efficient board meeting?  Look for answers to these questions and much more in the sections below.
Board Development
Includes information on job descriptions for board members, board recruiting, succession planning and conflict resolution.
Copyright Compliance
Includes information and tools to help your chorus stay in compliance.
Cultural Competency and Inclusion
Includes excellent background information on cultural competency and inclusion.
Planning
Contains example bylaws, strategic planning tools and examples and annual planning examples.
Policies
Provides templates for a variety of policies and an example of a very comprehensive member handbook.
Meeting Facilitation
Supplies links to rules of order and an example of a board dashboard.
Finances
Contains background information on reading financial statements, the role of the treasurer, IRS filings and insurance matters.
Personnel
Provides example job descriptions, staff evaluations, contract examples, organization charts, hiring tools and information on the employer vs independent contractor question.
Ask Eve
Eve Campbell serves as the 411 Board Development Advisor for GALA Choruses.  Eve has worked with Non-Profit organizations for all of her adult life and has had over 100 consults with different choruses.  Eve is a recipient of the GALA Choruses Legacy Award and the Extra Mile Award for service to the Dallas GLBTQ community.  GALA member choruses can request a complimentary consultation by filling out the 411 Advisor Request form.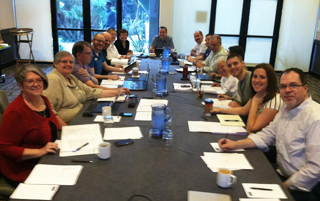 "Board recruitment discussions usually start with the tired question, "Who do we know?" Instead, let's start with "What are the three most important things for the board to accomplish this year, and what kind of board members do we need in order to do so?"
 - Jan Masaoka, Blue Avocado