Member Spotlight
Working on an interesting outreach project or artistic endeavor with your chorus? We'd like to hear about it. Join the Member Spotlight and submit your chorus story or inspiration. We look forward to shining the spotlight on you!
Youth Pride Chorus
Formed in 2003, Youth Pride Chorus harnesses the power of the performing arts to galvanize lesbian, gay, bisexual, transgender, and straight young people ages 13-22 as agents of change. YPC refuses homophobia, bullying, and all forms of hate by boldly asserting the joy, diversity, strength, and pride of today's youth. YPC singers discover their own power by empowering others in schools, online, and for the general public through electrifying performances of the highest caliber.
YPC is a joint project between Big Apple Performing Arts and the Center Youth program at the NYC Lesbian, Gay, Bisexual & Transgender Community Center. Since 2005 Youth Pride Chorus has been under the artistic direction of Wes Webb.
Artistry and Outreach:
YPC has performed as guest artists at the GLAAD Media Awards, GLSEN's Respect Awards, Broadway Backwards at Lincoln Center, with Cyndi Lauper on her True Colors Tour and her Home For The Holidays concert benefitting homeless LGBT youth, and most recently at the 2015 True Colors Conference, and at Joe's Pub at the Public Theater for the Gender and Family Project annual gala.
This year, Youth Pride Chorus has taken a big step toward more deeply exploring the identities of their community. Ethnicity intersects with sexuality and gender in complex ways that mainstream American identity politics too often ignore. At their most recent concert, titled US, YPC asked the simple and complex question "Who are WE in the U. S.?" US was an evening of song and spoken word asserting the power and perspective of today's American youth: lesbian, black, straight, Latino, transgender, white, bisexual, Asian, gay. The goal was to invite the audience to wonder, question, be provoked, to connect, discover, perhaps reorient, and ultimately to see – ourselves, our country, to see US.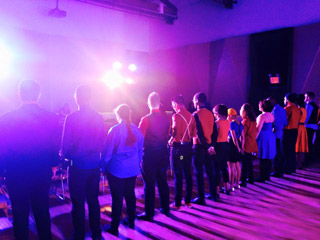 Inspirational Quote:
"YPC hasn't just taught me about singing. Through YPC, I gained the courage to come out to my family. YPC has also taught me about giving back to the community and to stand up for what is right. I sing because I want to help create a world where people have the courage to follow their hearts."
Carlos — YPC Member
Previous Spotlights

Creating unity in the Spokane and Eastern Washington community by using their voices to raise awareness and support.

A new LGBTQ vocal ensemble which also serves as a gathering of local LGBTQ musicians.

SF's, a cappella pop band of powerhouse soloists, booming beatboxers, and street-real rappers.

Home for anyone who does not fit neatly into the gender binary, as well as those touched by trans issues.