Member Spotlight
Working on an interesting outreach project or artistic endeavor with your chorus? We'd like to hear about it. Join the Member Spotlight and submit your chorus story or inspiration. We look forward to shining the spotlight on you!
Windy City Gay Chorus and Windy City Treble Quire
Windy City Gay Chorus and Windy City Treble Quire celebrate diversity, honor creativity, and cultivate pride through the transformative power of music and the arts.
Artistry and Outreach:
WCGC and WCTQ perform a variety of musical styles from classical to pop. We pride ourselves on musical excellence regardless of the style of music. The choruses have a history of performing major choral works including special commissioned pieces.
For more information, visit their website.
Inspirational quote:
"Accept people as they are and give them the tools to sing from their hearts."
-WCTQ Singer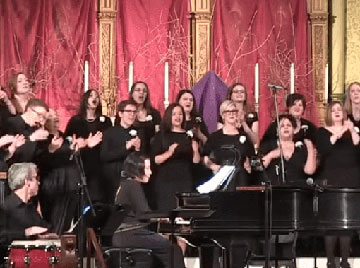 Previous Spotlights

Creating unity in the Spokane and Eastern Washington community by using their voices to raise awareness and support.

A new LGBTQ vocal ensemble which also serves as a gathering of local LGBTQ musicians.

SF's, a cappella pop band of powerhouse soloists, booming beatboxers, and street-real rappers.

Home for anyone who does not fit neatly into the gender binary, as well as those touched by trans issues.