Member Spotlight
Working on an interesting outreach project or artistic endeavor with your chorus? We'd like to hear about it. Join the Member Spotlight and submit your chorus story or inspiration. We look forward to shining the spotlight on you!
VOICES of Kentuckiana
VOICES is a chorus for the community that celebrates diversity and is dedicated to fostering positive social change through artistic excellence. Founded in 1994 we are unique among choral groups in the Louisville, Kentucky area because we are an inclusive chorus providing an opportunity for gay, lesbian, bisexual, transgender, and straight men and women to sing together.
We maintain a unique, viable and valuable place in the Kentucky arts-scene. Visit the Kentucky Museum and you'll hear a recording of VOICES singing My Old Kentucky Home. Attend the Kentucky Derby International Press Gala and you'll be entertained by VOICES. You will also hear VOICES at the Louisville AIDS Walk, Kentuckiana Pride Festival, Shine on Louisville, The March for Justice, World AIDS Day, and on local television before every concert.
We Value:
Inclusivity: We welcome members of all sexual orientations, races, ethnicities, ages, religions, political affiliations and music abilities; and we value every member as part of the VOICES family.
Courage: We stand beside those who have no voice.
Musicianship: We strive to offer our audiences the best musical experiences possible.
Cooperation: We seek community partnerships that promote human dignity.
Empowerment: We promote self-confidence and self-determination.
Integrity: We commit to transparency and honesty with each other and our community.
Joy: We celebrate our friends, our families, our music, and ourselves. We love to have fun.
Artistry and Outreach:
VOICES is a chorus for the community and we believe that it is important to perform concerts that are relevant and meaningful. Two such concerts are in the works. Kentucky is one of 13 states in which same sex marriage is illegal, and VOICES feels a responsibility to play a role in the gay marriage movement. We are presenting MARRY US…TODAY! on April 28, a few days before the Supreme Court hears arguments in gay marriage cases to decide the future of gay marriage in this country.
VOICES is partnering with local high school GSAs and GSTAs and The Louisville Youth Group to create our April, 2016 concert, BRAVE AND BEAUTIFUL. We are engaging in dialogue with the students listening to their stories of family, coming out, and life as LGBTA high school students. The concert will include their stories, poetry and spoken word, artwork, and videos. The students are working with us so that our concert shines a light on their truths. Under the leadership of our new Artistic Director Jeff Buhrman, VOICES has created its first youth outreach program. We began a Tickets for Youth program and gave over 60 free holiday concert tickets to high school students and will repeat this for every concert. We are excited about these new programs.
To learn more about VOICES, visit their website.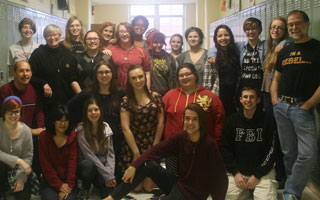 Inspirational Quote:
While visiting a local GSTA meeting, a transgender young woman shared the following: "A very special moment for me was when my girlfriend no longer referred to me as her boyfriend. She called me her girlfriend for the first time. It was an amazing feeling".
Previous Spotlights

Creating unity in the Spokane and Eastern Washington community by using their voices to raise awareness and support.

A new LGBTQ vocal ensemble which also serves as a gathering of local LGBTQ musicians.

SF's, a cappella pop band of powerhouse soloists, booming beatboxers, and street-real rappers.

Home for anyone who does not fit neatly into the gender binary, as well as those touched by trans issues.