Member Spotlight
Working on an interesting outreach project or artistic endeavor with your chorus? We'd like to hear about it. Join the Member Spotlight and submit your chorus story or inspiration. We look forward to shining the spotlight on you!
Vancouver Men's Chorus
Composed of gay men and their friends, the chorus promotes community spirit and a positive image of the gay community.
The Vancouver Men's Chorus is one of Canada's premier singing ensembles and Canada's first gay chorus. For more than 30 years, we've delighted audiences locally and abroad. At the core of the Chorus' achievements stands its contribution to the creation of new repertoire for men's and mixed voices. Custom-made arrangements, notably by Willi Zwozdesky, Stephen Smith, and other Canadian arrangers are a hallmark of VMC programming. As a result of this and the Chorus' wide-ranging concertizing, VMC arrangements are now heard in concert halls around the world. Original commissions have included Vancouver composers Michael Conway Baker, Ramona Luengen, Anita Perry, Rupert Lang, Stephen Smith, and Willi Zwozdesky, and Toronto composer Eleanor Daley. In 2000, the Chorus was also among the original commissioning choruses of Alan Shorter's setting of the children's story Oliver Button is a Sissy.
The Chorus is a member of the British Columbia Choral Federation and of GALA Choruses.
Listen to a sample:
Vancouver Men's Chorus – Gone At Last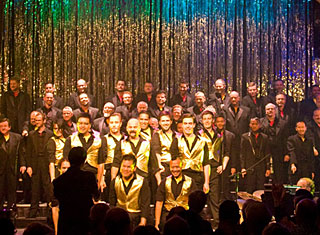 Artistry and Outreach:
During our most recent run of performances for our #1 Hits show, the VMC invited local community groups to an open dress rehearsal. Attendees (including student LGBT groups from UBC and SFU, PFLAG, and HIM. ) were delighted with the opportunity to see the VMC for free, while the guys very much appreciated having such a responsive audience. The result of this fabulous initiative was a much expanded outreach program for our Fall concert season.
Previous Spotlights

Creating unity in the Spokane and Eastern Washington community by using their voices to raise awareness and support.

A new LGBTQ vocal ensemble which also serves as a gathering of local LGBTQ musicians.

SF's, a cappella pop band of powerhouse soloists, booming beatboxers, and street-real rappers.

Home for anyone who does not fit neatly into the gender binary, as well as those touched by trans issues.