Member Spotlight
Working on an interesting outreach project or artistic endeavor with your chorus? We'd like to hear about it. Join the Member Spotlight and submit your chorus story or inspiration. We look forward to shining the spotlight on you!
Twin Cities Gay Men's Chorus
With over 180 singing members, Twin Cities Gay Men's Chorus (TCGMC) and its two small ensembles, the Chamber Singers and OutLoud!, produce and present a full concert season every year. The Chorus performs its concert series at Ted Mann Concert Hall in Minneapolis and is also featured at a number of other special appearances and outreach programs (schools, churches, universities, festivals) locally, throughout the Midwest and the nation.
Mission Statement
Now in our 35th year, the mission of Twin Cities Gay Men's Chorus is "gay men building community through music." The chorus changes lives through the performance of significant music. Using music as a common thread allows our audience to fulfill their needs for great entertainment (artistry), while supporting a cause they believe in (advocacy) and promoting greater understanding between all of us (community). Music is the common language that we use to tell the stories of our community, encouraging our audience to find relevance in what we sing with events from their own lives, bringing us closer together.
The Chorus fulfills its mission by providing a welcoming environment for gay men and by inspiring social interaction through public concerts and outreach efforts. In addition to being both an ambassador and a gathering place for the LGBT community, the Chorus also changes lives through the performance of significant music. Our repertory of choral and popular musical compositions ranges from classical and liturgical to contemporary works and world premiere commissions.
Artistry and Outreach:
TCGMC recently performed one of its most unique outreaches ever, when they were asked to accompany US Figure Skating champion Ashley Wagner live during the exhibition skate at the conclusion of this year's US Figure Skating Championships in the Twin Cities. Singing John Lennon's "Imagine," the Chorus performed in front of a local audience that included its largest youth audience ever. The NBC telecast reached over 1.2 million viewers.
"There's something so special about performing to live music," said commentator Johnny Weir, "combining two beautiful art forms to be as one."
Listen To A Sample
Twin Cities Gay Men's Chorus – Imagine by John Lennon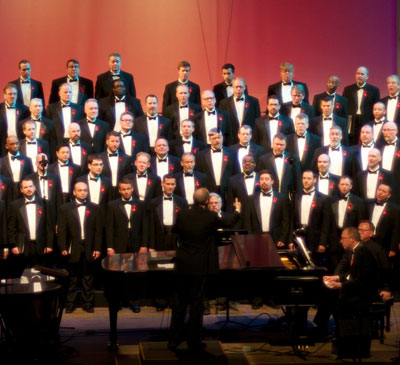 Inspirational Quote:
"As a community, the Chorus serves a supportive and stabilizing role for its members…I know several members who, facing depression and other challenges over the years, have said, 'The Chorus has saved my life.'"
– Singing member of TCGMC
Previous Spotlights

Creating unity in the Spokane and Eastern Washington community by using their voices to raise awareness and support.

A new LGBTQ vocal ensemble which also serves as a gathering of local LGBTQ musicians.

SF's, a cappella pop band of powerhouse soloists, booming beatboxers, and street-real rappers.

Home for anyone who does not fit neatly into the gender binary, as well as those touched by trans issues.