Member Spotlight
Working on an interesting outreach project or artistic endeavor with your chorus? We'd like to hear about it. Join the Member Spotlight and submit your chorus story or inspiration. We look forward to shining the spotlight on you!
Tone Custer–quite a queer choir
In 1994, a few friends clustered together to sing madrigals. They posted a small ad in an Ottawa LGBT newspaper, added more members, and became a gay chamber choir. Tone Cluster has always been a safe space for many who could not be out in their lives, careers or families. Times have changed, and fortunately many barriers have come down over the past twenty years. The choir has also changed with the times but it is still a close community of LGBTQ members and their straight allies who love to make music together. The choir's repertoire has broadened to include almost every kind of choral music. Tone Cluster, now completing its 20th Anniversary Season, has drawn praise and attention from some of Canada's foremost choral composers and has commissioned several new works, three of which were performed in Denver in 2012.
Artistry and Outreach:
Tone Cluster really is "quite a queer choir" and has always been a supporter of LGBTQ and other causes such as same-sex marriage, awareness on HIV-AIDS and violence against women, peace, public water, gender sensitivity, equality. The choir continues to raise awareness about bullying with the annual "words" concert featuring youth choirs. In 2013 Tone Cluster was the first LGBTQ choir in Ottawa ever to perform during a school assembly. The choir's innovative fundraiser, Show Tune Showdown (STS), is now one of Ottawa's favourite entertainment events. In May 2014, Tone Cluster is a proud co-host of Unison Ottawa 2014, the Canadian LGBT Choral Festival and will introduce the STS fundraising concept to choirs across the country and abroad.
Learn more about Tone Cluster by visiting their website.
Listen to a sample:
Tone Cluster – You are The New Day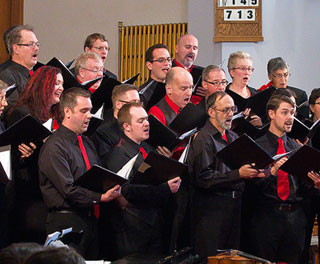 On the "Fabulous Twenty" 20th Anniversary Concert (February 2014):
"Great concert yesterday, such enthusiasm, and such a creative programme of music, particularly the commissioned and Canadian works. I admire the entrepreneurial energy of the Cluster."
— John W. Foster – Audience member
Previous Spotlights

Creating unity in the Spokane and Eastern Washington community by using their voices to raise awareness and support.

A new LGBTQ vocal ensemble which also serves as a gathering of local LGBTQ musicians.

SF's, a cappella pop band of powerhouse soloists, booming beatboxers, and street-real rappers.

Home for anyone who does not fit neatly into the gender binary, as well as those touched by trans issues.