Member Spotlight
Working on an interesting outreach project or artistic endeavor with your chorus? We'd like to hear about it. Join the Member Spotlight and submit your chorus story or inspiration. We look forward to shining the spotlight on you!
The Steel City Men's Chorus
The Steel City Men's Chorus came into being on August 8, 2013, out of a vision for an all male chorus dedicated to providing quality entertainment for the purpose of educating and furthering a positive image and appreciation of the LGBTQ community.
Artistry and Outreach:
We are in the middle of the hectic preparation for our inaugural performance, Our First Noel, on December 6 in Birmingham's historic Virginia Samford Theatre. A mix of traditional favorites and comedic interpretations of the holiday repertoire, we will deliver a performance unlike any other in Birmingham. In addition to our voices and talents, we are being joined for our first production by Chris Griffin, a gifted pianist, and by the Birmingham Sugar Babies, an amazing and completely delightful troupe of tap dancers. We couldn't be more excited to be bringing something new and unique to Birmingham and to hopefully opening hearts and minds to the many gifts LGBTQ people bring to our community.
To learn more about The Steel City Men's Chorus, visit their website.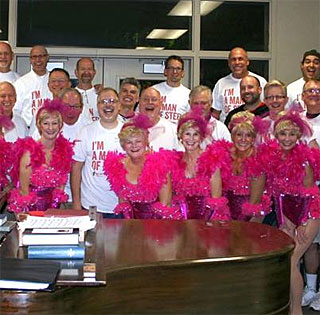 "Music expresses that which cannot be put into words and that which cannot remain silent"
— Victor Hugo
Previous Spotlights

Creating unity in the Spokane and Eastern Washington community by using their voices to raise awareness and support.

A new LGBTQ vocal ensemble which also serves as a gathering of local LGBTQ musicians.

SF's, a cappella pop band of powerhouse soloists, booming beatboxers, and street-real rappers.

Home for anyone who does not fit neatly into the gender binary, as well as those touched by trans issues.