Member Spotlight
Working on an interesting outreach project or artistic endeavor with your chorus? We'd like to hear about it. Join the Member Spotlight and submit your chorus story or inspiration. We look forward to shining the spotlight on you!
Spectrum Singers
Through the power of song, Spectrum Singers empowers and unites the community, amplifies diverse voices and serves as a catalyst for positive social change. Spectrum Singers creates unity in the Spokane and Eastern Washington community by using their voices to raise awareness and support for social justice issues and through community outreach and engagement. Spectrum Singers strives for musical excellence to entertain and connect with their audience and to advocate and unite through music. They radiate positivity, have fun and put their all into what they do. They promote respect, dignity and professionalism and help our members in their own personal growth and development. Spectrum Singers take great pride in encouraging an atmosphere of inclusivity. They support and welcome a diverse, intergenerational membership group and set their eyes on the future to bring about a better world together. They truly represent a broad spectrum, welcoming people from all ages, ability levels, sexual orientations, gender identities, races, religions, and cultures. All are welcome!
Artistry and Outreach:
We had an incredibly successful inaugural concert season. Completely non-existent before August of 2018, we grew to a membership of 40 singers in one month. Then, after only 2.5 months of rehearsals with some pretty inexperienced singers, we performed a wonderful concert with a fantastic unified sound. The concert was entitled "A Light in the Hallway" which celebrated the unifying of our choir and of our local community. With songs such as "No Day But Today", "We Shall Overcome", "Lean On Me", "Make Them Hear You", "Light In The Hallway" and more, this concert inspired of sense of security, hope, and a call to action. We filled our venue to capacity with about 200 people in attendance. So many people, singers and audiences were brought to tears and told stories of how this choir has been influential in their lives. This community has clearly been hungry for a group like this, to bring people together, provide hope, celebrate diverse identities, serve underrepresented groups, and create some awesome music.
Listen To A Sample
Spectrum Singers – No Day But Today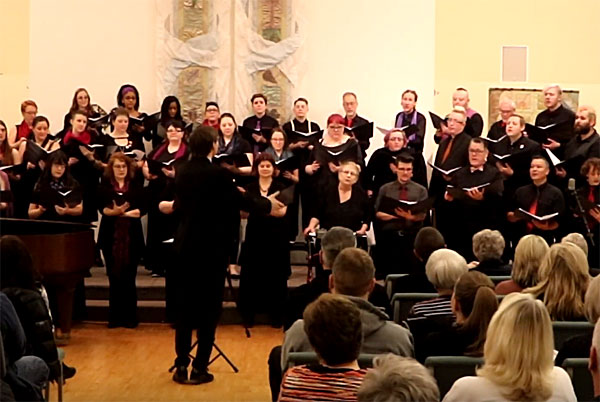 Inspirational Quotes:
"Being in Spectrum Singers has literally saved my life. I was a member of strong lesbian group many years ago, but have become depressed and isolated as I've gotten older and disabled. I had basically given up on life; I've hardly left the house in the last 15 years. This choir has given me a reason to live again. Now I have a place to go every week where I know I will see other people who know me and care about how I'm doing" – Singer
"This choir has literally helped me find my voice. I transitioned many years ago and started taking testosterone. I had know if idea if I'd be able to sing with my lower voice. Spectrum has helped me find my voice and find more courage and strength to use it, both in choir, and in the rest of my life" – Singer
"Spectrum Singers is a place where I know that I can be open and honest about who I am and know that my identity is seen and celebrated. As a non-binary person, this is one of the only places I know everyone will try to use the correct gender-neutral pronoun, where I know I am loved and appreciated no matter how I express my gender and sexuality. This means the world to me!" – Singer/President of the board
Previous Spotlights

A new LGBTQ vocal ensemble which also serves as a gathering of local LGBTQ musicians.

SF's, a cappella pop band of powerhouse soloists, booming beatboxers, and street-real rappers.

Home for anyone who does not fit neatly into the gender binary, as well as those touched by trans issues.

The PGMC entertains audiences, supports communities, and fosters acceptance.