Member Spotlight
Working on an interesting outreach project or artistic endeavor with your chorus? We'd like to hear about it. Join the Member Spotlight and submit your chorus story or inspiration. We look forward to shining the spotlight on you!
Sound of Light Choir
The Sound of Light Choir Atlanta is a welcoming, spiritual family that celebrates life, healing and love through music! We are active members of the Spiritual Living Center Atlanta.
Artistry and Outreach:
Sound of Light Choir performs against all odds inspired by our incoming Senior Minister David Ault who realized the positive impact of music, took a chance, invested monies and belief in supporting a strong music ministry. The choir formed in October 2012 and toured in February 2013 performing during Leadership Conference in New Orleans to a standing ovation. We continue to build community and realize the positive impact of monthly performances, coordination, preparation which played into our hearts. We sing repertoire (contemporary gospel) which is relevant, dramatic, poignant and heart opening. We expand our understanding as music leaders/singers and the value music brings to our lives. Today, local tours within the interfaith community continue to broaden our appreciation for musical celebration and diversity.
Visit their website for more information on the Sound of Light Choir.
Listen to A Sample
Amazing Grace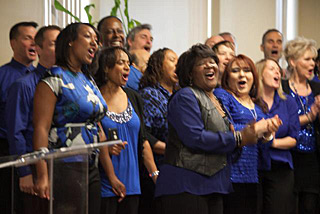 "Music and spirituality have been indelibly tied for thousands of years and the love affair continues to this day. Imagining church without music is like imagining a rodeo without horses or an orchestra without a string section. "
— Richard Mekdeci, Sue Riley from the forward of their book: Music in Ministry
Previous Spotlights

Creating unity in the Spokane and Eastern Washington community by using their voices to raise awareness and support.

A new LGBTQ vocal ensemble which also serves as a gathering of local LGBTQ musicians.

SF's, a cappella pop band of powerhouse soloists, booming beatboxers, and street-real rappers.

Home for anyone who does not fit neatly into the gender binary, as well as those touched by trans issues.