Member Spotlight
Working on an interesting outreach project or artistic endeavor with your chorus? We'd like to hear about it. Join the Member Spotlight and submit your chorus story or inspiration. We look forward to shining the spotlight on you!
Singing OUT! Toronto's Lesbian, Gay, Bisexual, Transgender, & Queer Chorus
PRIDE. MUSIC. BELONGING.
We promote pride, both in who we are and in musical excellence, to the communities where we live, perform, and find mutual support. Within the choir, we shall foster a positive image of our common goals of belonging, unity, and empowerment: a reflection of our lives.
Artistry and Outreach:
Musically, we cover everything from the sacred to the silly, in many different styles (pop, showtunes, classical, folk, jazz) and languages. We do not require an audition to join.
Follow us on Facebook
Follow us on Twitter
Visit our Website
Listen to a sample:
Singing OUT! Toronto's Lesbian, Gay, Bisexual, Transgender, & Queer Chorus – All The Little Rivers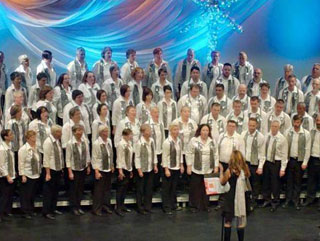 "Music expresses that which cannot be said and on which it is impossible to be silent."
— Victor Hugo
Previous Spotlights

Creating unity in the Spokane and Eastern Washington community by using their voices to raise awareness and support.

A new LGBTQ vocal ensemble which also serves as a gathering of local LGBTQ musicians.

SF's, a cappella pop band of powerhouse soloists, booming beatboxers, and street-real rappers.

Home for anyone who does not fit neatly into the gender binary, as well as those touched by trans issues.