Member Spotlight
Working on an interesting outreach project or artistic endeavor with your chorus? We'd like to hear about it. Join the Member Spotlight and submit your chorus story or inspiration. We look forward to shining the spotlight on you!
San Diego Women's Chorus
Through musical expression, the San Diego Women's Chorus encourages women's creativity, celebrates diversity and inspires social action. A sisterhood of musicians that brings together the diversity of the LGBTQ and straight-ally communities, SDWC believes in the power of music and the power of women to create positive change in individual lives as well as communities at large.
Artistry and Outreach:
In 2014, SDWC formed a collaborative partnership with the San Diego Human Dignity Foundation, a local community organization that funds programs promoting equal treatment, tolerance, and human dignity. Combining SDHDF's financial resources with SDWC's musical talent, they produced "Songs of Protest, Songs of Peace", with special guests the Indigo Girls. The concert nearly sold-out a 1,400-seat venue and raised funds (and visibility) for SDWC, as well as SDHDF's Lesbian Health Initiative. The two organizations partnered again for "Broadway, Our Way, with special guest Frenchie Davis in May 2015 and have another event in the works for Spring 2016.
Listen to a sample:
San Diego Women's Chorus – I am Willing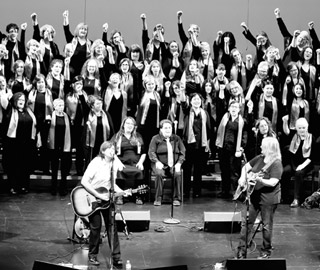 Inspirational Quote:
"These women speak their truth and show up for themselves, each other, and their community. They take a stand for equality and justice, and make beautiful, empowering music. There are far too few places for women's voices to shine so brightly."
– Claire Beaumont, singer
Previous Spotlights

Creating unity in the Spokane and Eastern Washington community by using their voices to raise awareness and support.

A new LGBTQ vocal ensemble which also serves as a gathering of local LGBTQ musicians.

SF's, a cappella pop band of powerhouse soloists, booming beatboxers, and street-real rappers.

Home for anyone who does not fit neatly into the gender binary, as well as those touched by trans issues.