Member Spotlight
Working on an interesting outreach project or artistic endeavor with your chorus? We'd like to hear about it. Join the Member Spotlight and submit your chorus story or inspiration. We look forward to shining the spotlight on you!
River City Mixed Chorus
The members of the River City Mixed Chorus have joined together for the purpose of making music as a not-for-profit, volunteer chorus of gays, lesbians, bisexuals and transgendered persons and their straight allies who are making a positive cultural contribution to the entire Omaha community.
Starting in 1984 with 11 talented men and women, the chorus has grown to over 100 singing members.
Artistry and Outreach:
RCMC offers community engagement performances to assist and benefit other like-minded, not-for-profit organizations that promote tolerance and diversity and to give something back and make a contribution to the community that has been so generous in supporting RCMC and nurturing their growth. In April 2015, the Chorus is going beyond the Omaha walls and offering a free concert in the Nebraska capitol city of Lincoln. The proceeds will benefit a local Lincoln non-profit and will help RCMC in their goal of becoming not only Omaha's premier GLBTA chorus, but become Nebraska's premier GLBTA chorus.
Inspirational Quote:
After our June shows, RCMC director, Dr. A. Barron Breland, received a note in which a young woman shared how the concert affected her as she worked through personal struggles.
"I was awed by how beautiful, inspiring, and authentic the performance was," the young woman wrote. "It brightens my soul to see that such a wonderful group is integrated in the Omaha community, and to see not only a unity of gender and sexuality, but of everyone, and knowing that you all care, no matter what someone is going through. This concert has opened my heart even more than I thought possible, all through the voices of your beautiful, diverse, family of singers."
Vist their website to learn more about the chorus.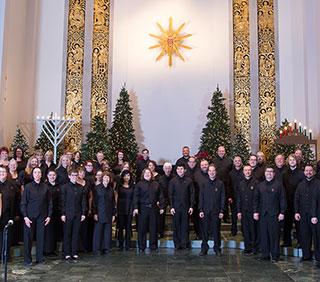 Previous Spotlights

Creating unity in the Spokane and Eastern Washington community by using their voices to raise awareness and support.

A new LGBTQ vocal ensemble which also serves as a gathering of local LGBTQ musicians.

SF's, a cappella pop band of powerhouse soloists, booming beatboxers, and street-real rappers.

Home for anyone who does not fit neatly into the gender binary, as well as those touched by trans issues.