Member Spotlight
Working on an interesting outreach project or artistic endeavor with your chorus? We'd like to hear about it. Join the Member Spotlight and submit your chorus story or inspiration. We look forward to shining the spotlight on you!
Reaching Out in Colorado
Harmony: a Colorado chorale
The Gay, Lesbian, Bi-Sexual, Transgendered and Straight voices of Harmony, embrace and inspire an inclusive community through song.
Northern Harmony
Northern Harmony provides an opportunity for people in northern Colorado and southern Wyoming to perform in a GLBT-friendly chorus. Harmony, like The Rainbow Chorus which served the northern Colorado communities for many years, is an all-inclusive, non-auditioned chorus.
Artistry and Outreach:
In October of 2009, I was cleaning out a closet and discovered a card from members of the Rainbow Chorus in 2001. Waxing nostalgic, I sat down and re-read the messages that different people had written to me. "Where are all those people now?" I wondered. A few years earlier, the Rainbow Chorus, which had members in Northern Colorado and Wyoming, folded because of financial issues.
The wheels started turning. I had been conducting Harmony: A Colorado Chorale in Denver for many years. "What if we offered Harmony to former Rainbow Chorus members? What, could/would it look like?"
I drew up a proposal and submitted it to the Board for our chorus, Harmony, to help another chorus in Colorado partner with us in rehearsals and performance. Basically, "Northern" Harmony could rehearse on Tuesday nights, following a schedule similar to what the Rainbow Chorus had. The season would include a retreat about 4 weeks before the concert to get everyone together, and we could also perform a preview concert in Ft. Collins.
Our goals were the following:
Provide an opportunity for persons in northern Colorado/Wyoming LGBTA communities to sing in a mixed GALA chorus;
Increase Harmony's exposure to that community at-large;
Increase Harmony's membership; and
Perhaps help offset some of Harmony's own financial issues.
Upon Board approval, I contacted former Rainbow Chorus members, the Lambda Community Center in Ft. Collins, various LGBT organizations at Colorado State University and University of Northern Colorado, and held a community meeting in early January, 2010. Our first rehearsal was a few weeks later.
With assistance from the church where we rehearse, various members, and directing a couple seasons "free gratis", the new chorus has been able to stay afloat. We have between 12 and 20 singing members, and are now able to pay our assistant director to run weekly rehearsals, and to pay for a rehearsal accompanist.
– Bill Loper, Artistic Director
Listen to a sample
The Origin of Love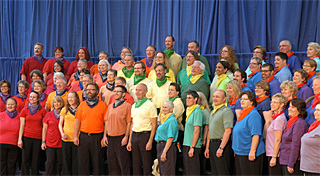 " The major benefit of this outreach has been the blending of the metro Denver and northern communities in the state to help our chorus live up to it's name, 'Harmony: a Colorado chorale'."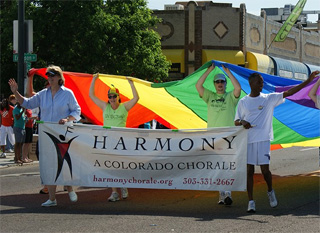 " We now participate in Denver and Northern Colorado Pridefests, holding true to our mission to "embrace and inspire an inclusive community through song".
– Bill Loper, Artistic Director
For more information about Harmony, visit their website.
Previous Spotlights

Creating unity in the Spokane and Eastern Washington community by using their voices to raise awareness and support.

A new LGBTQ vocal ensemble which also serves as a gathering of local LGBTQ musicians.

SF's, a cappella pop band of powerhouse soloists, booming beatboxers, and street-real rappers.

Home for anyone who does not fit neatly into the gender binary, as well as those touched by trans issues.