Member Spotlight
Working on an interesting outreach project or artistic endeavor with your chorus? We'd like to hear about it. Join the Member Spotlight and submit your chorus story or inspiration. We look forward to shining the spotlight on you!
Quorum Boston
Quorum is a new (2017) LGBTQ vocal ensemble in Boston, under the direction of Lorraine Fitzmaurice. At a glance, Quorum Boston is an auditioned chamber choir of 20 singers. We perform classical music, from the medieval era through new works. In addition to performing as an ensemble, Quorum Boston serves as a gathering of local LGBTQ musicians.
The queer experience is one in which community plays a uniquely vital role. Creative initiatives will be member-lead, and this flexibility will allow the ensemble to evolve to suit the needs of the community. Quorum Boston will thereby create a space for music, scholarship, dialogue and art to flourish in this great cultural city. We make our voices heard, enrich our community, and forge collaborations with other artists.
We program music almost exclusively by queer composers, with the goal of combating the erasure of queerness from canonical composers and amplifying the voices of living composers.
Each concert will draw from over 1000 years of musical heritage. The erasure of "queerness" from canonical artists because of ignorance, malice, or some misplaced sense of propriety (Smyth, Tchaikovsky, Lully, etc.) is deeply unfortunate and can only be corrected through education and discussion. A more complete understanding of the lives and works of these composers benefits the entire public, not just the LGBTQ community.
Critical to our mission is our Composer in Residence program. We celebrate the contributions of living composers to the choral music scene, amplifying the great art being created. We invite Composers in Residence into our rehearsals to teach us about their art, and we ask their input on determining the programming and creative tone of the concert in which their work is performed. Pending future funding, Quorum Boston will have a yearly commissioned work, thus supporting LGBTQ artists and incentivizing the creation of new music.
Quorum Boston seeks to be a nexus of art and scholarship, two of Boston's most plentiful resources. To accomplish this, we will partner with musicologists from some of Boston's many premiere music schools and programs for pre-concert lectures, with living composers for interviews and workshops, and with local artists for multi-media collaborations (concert programming inspired by artwork, sound-installations, dance works, etc).
So, what's with the name?
What is a quorum, anyways? Quorum is the Latin word for "of whom." It has the double-meaning of "a select group" and "the number of members of a body that when duly assembled is legally competent to transact business." In biology, the term "quorum sensing" refers to the mechanism by which bacteria communicate and regulate their behavior. They send and receive chemical signals from one another, and once their population reaches a certain number, they are able to do things as a group that would be impossible for a single bacterium. As a choir, we seek out one another in much the same way. Individual voices cannot produce harmonies until assembled together as a quorum of voices. As a Quorum, we're able to perform a full spectrum of choral works.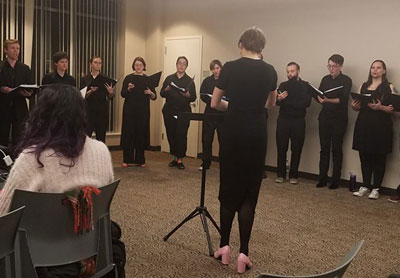 Our First Season
Our debut season featured two performances – a no-fee concert where we collected donations for LGBTQ programming at community center where we rehearse, and the other a pay-what-you-want (to cover our costs). Our Resident Composer was Inti Logan Figgis-Vizueta, a non-binary Latinx experimental composer from Washington, D.C.
In terms of programming, we sang works by Hildegard von Bingen, Britten, Barber, and Cage, as well as the fantastic "En la noche entraremos" by Mari Ésabel Valverde (which you can listen to here: https://soundcloud.com/mevalverde/en-la-noche-entraremos). Mari Ésabel is raising money for her gender confirmation surgery, and we'd love to boost that signal – we feel very lucky in the support that Quorum has received from friends, family, and community, and it's time to pass that support on to others!
We're also excited to perform a "Drag Messiah" to raise awareness and donations for Freedom for All Massachusetts, a trans-lead organization that is working to protect ways in which the Commonwealth currently allows trans* people to use public accommodations that align with their gender identity. Written by a queer composer who participated in drag culture and wrote many cross-gendered opera roles, Handel's Messiah will be an exciting and high-quality concert. We will perform the entire piece with a guest orchestra of historically-informed instrumentalists, in a setting both intimate and powerful.
Previous Spotlights

Creating unity in the Spokane and Eastern Washington community by using their voices to raise awareness and support.

SF's, a cappella pop band of powerhouse soloists, booming beatboxers, and street-real rappers.

Home for anyone who does not fit neatly into the gender binary, as well as those touched by trans issues.

The PGMC entertains audiences, supports communities, and fosters acceptance.