Member Spotlight
Working on an interesting outreach project or artistic endeavor with your chorus? We'd like to hear about it. Join the Member Spotlight and submit your chorus story or inspiration. We look forward to shining the spotlight on you!
The Puerto Vallarta Men's Chorus
MISSION • OBJETIVO
To present quality male choral music in Spanish and English using the voices and talent of gay Mexicans and ex-patriots to entertain, enlighten and unify our audience and members while building bridges of understanding, acceptance and love between communities, cultures, families and friends.
Presentar a ustedes música coral masculina de calidad en español e inglés usando las voces y talentos de mexicanos y ex-patriotas gay para entretener, iluminar y unificar a nuestra audiencia y a nuestros miembros, construyendo puentes de entendimiento, aceptación y amor entre nuestras comunidades, culturas, familias y amigos.
BOB BRUNEAU
Artistic Director, The Puerto Vallarta Men's Chorus
It is a pleasure to tell you about our first "big" show at Teatro Vallarta in the heart of downtown Puerto Vallarta. After being together eight months, we put on a very entertaining December show, with sets, costuming, and wonderful emotional highs and lows. We had the largest audience the theater has ever held. Having a show such as this has been a dream of mine from the moment the idea of a gay men's chorus in Puerto Vallarta first came to me early this year. With the help of my co-founder Joyce Ericson, we laid out a roadmap of how we'd get from an "idea" to our first performance. Rehearsals started at the beginning of May with 30 brave singers, practicing for our Gay Pride show held at the Boutique Theatre on June 17th. We made history. We are the first ever gay men's chorus in Mexico and all of Latin America. Our audience received the show and the Puerto Vallarta Men's chorus with warmth and enthusiasm. We entertained, and hopefully moved some hearts and minds with our music and stories.
Since the early 1980's I attended Seattle Men's Chorus concerts. I especially loved the holiday show in December. It never failed to amaze and touch me. I told myself that some day when my real estate career was going well, I'd sing with the Seattle chorus and I did from 1998 until 2003. I loved singing the songs of Christmas in some of the finest concert halls.
After moving to Mexico and helping start a flower shop with my partner Gerardo, I jumped back in real estate. But I always felt there was something more waiting for me. I discovered it this year as I worked as musical director for a musical theater. I was working with all the singers, and was starting to get some good results. I discovered I had a talent working with them. It gave me the idea and the courage to embark on the huge undertaking of starting and directing a gay men's chorus. They say be careful for what you ask for. I asked for a wonderful new life, and the Universe gave me this wonderful gift.
We are now a year old and have 45 singers, equally divided between Mexican Nationals and Ex-pats like myself. We are bi-lingual as well. As an emerging chorus, we first started with unison and a little two part music for our pride show last June, moving to mostly two-part music for our holiday show. We are now working on 3 part material for our spring show. There is no curriculum in the Mexican school system for part singing. Harmony singing is all by ear and is passed down from musicians generation to generation. So the chorus (and myself!) are on a steep learning curve. – Bob Bruneau, Artistic Director
For more information on the Puerto Vallarta Men's Chorus, visit their website.
Listen to a sample
Puerto Vallarta Men's Chorus – De Colores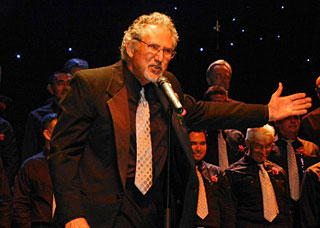 "I am very happy to be a part of GALA, and am looking forward to 2016 when I can present The Puerto Vallarta Men's Chorus! "
–Bob Bruneau
Artistic Director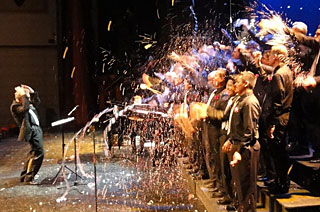 During the performance of our Hallelujah spoof, "Alegria"
Previous Spotlights

Creating unity in the Spokane and Eastern Washington community by using their voices to raise awareness and support.

A new LGBTQ vocal ensemble which also serves as a gathering of local LGBTQ musicians.

SF's, a cappella pop band of powerhouse soloists, booming beatboxers, and street-real rappers.

Home for anyone who does not fit neatly into the gender binary, as well as those touched by trans issues.