Member Spotlight
Working on an interesting outreach project or artistic endeavor with your chorus? We'd like to hear about it. Join the Member Spotlight and submit your chorus story or inspiration. We look forward to shining the spotlight on you!
Phoenix Women's Chorus
Phoenix Women's Chorus is a feminist, lesbian choir located in Phoenix, Arizona. The organization exists "to increase lesbian visibility, to celebrate the accomplishments of women in music, and to passionately pursue artistic excellence."
Phoenix Women's Chorus is a growing, vibrant chorus, seeking to provide a first-class choral music experience for women. Since its inception in 1993, Phoenix Women's Chorus has grown from a singing membership of 10 women to over 60 women. Phoenix Women's Chorus is one of the Phoenix Metropolitan area's most respected, requested, and sustainable performing arts organizations. The organization strives to enhance and promote the work of female musicians, songwriters, composers and instrumentalists.
Phoenix Women's Chorus serves as not only a performing arts choir, but also an advocate for social change as it relates to women and the Gay, Lesbian, Bisexual and Transgendered (GLBT) community. The chorus offers a safe and supportive environment for the GLBT community to support one another and educate the general public about what it means to be GLBT.
Artistry and Outreach:
As part of our commitment to our local community, Phoenix Women's Chorus performs four full-length concerts each year; in the fall and spring. In addition to preparing for and presenting concerts each year, Phoenix Women's Chorus participates in a wide variety of community activities. These events include Arizona Central Pride Festivals, Rainbow Festivals, Phoenix Pride parades, AIDS Memorial services, annual dinners for Equality Arizona (formerly known as AHRF), WNBA Phoenix Mercury games, Caroling visits to the Phoenix Children's Hospital and, since the landmark repeal of "Don't Ask, Don't Tell" in 2012, ceremonies at Luke Air Force Base.
The breadth and depth of talents and interests among our members has fueled our ability to extend our involvement beyond the boundaries of the Phoenix area. We have reached south to Tucson, and are actively planning performances in the Prescott and Flagstaff areas, as well. Phoenix Women's Chorus is a vibrant member of the Gay and Lesbian Association of Choirs (GALA) and has performed on national and international stages, including San Jose, Montreal, and Denver.
Listen to a sample:
Phoenix Women's Chorus – Now I Become Myself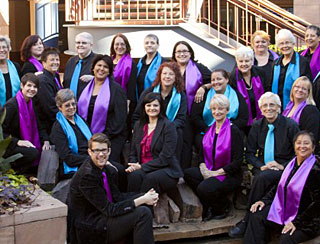 Inspirational Quote:
Phoenix Women's Chorus is more than simply a choir. It is a wonderful group of women who support each other through life's uncertainty, while working toward greater lesbian visibility within the community. The repertoire is as diverse as the women that make up this incredible organization. Each concert brings something new and exciting. The dedication of the staff, board and volunteers is evident in everything that this organization has and will continue to accomplish. Anyone who has ever been a part of this organization or has the privilege of seeing PWC perform is part of a family that compares to nothing else. The community has been lucky to have PWC for the past 20+ years, and I hope that we can add another 20 years to our legacy.
– Joanna Reihing, singer
Previous Spotlights

Creating unity in the Spokane and Eastern Washington community by using their voices to raise awareness and support.

A new LGBTQ vocal ensemble which also serves as a gathering of local LGBTQ musicians.

SF's, a cappella pop band of powerhouse soloists, booming beatboxers, and street-real rappers.

Home for anyone who does not fit neatly into the gender binary, as well as those touched by trans issues.