Member Spotlight
Working on an interesting outreach project or artistic endeavor with your chorus? We'd like to hear about it. Join the Member Spotlight and submit your chorus story or inspiration. We look forward to shining the spotlight on you!
Phoenix, Colorado's Trans Community Choir
Phoenix, Colorado's Trans Community Choir is a fully collaborative grassroots community of individuals who believe in the transformative potential of the arts for personal empowerment and societal change. Although many of its members are trans-identified, the choir is home for anyone who does not fit neatly into the gender binary, as well as all those touched by trans issues, including partners, parents, friends, and allies.
Phoenix is coming off a very exciting and eventful season. Last February, we were invited to perform for 350 kids at a local elementary school. As an intergenerational collaborative chorus, the kids in our choir were the leaders in designing our program, which was a story about a transgender Raven in a community of animals (we all dressed like animals), with songs interwoven throughout the story. Though it was hard to predict how we'd be received, the kids were captivated, many teachers were in tears, and we received emails of appreciation from parents and the principal. We've already been invited back for next year and, from the artwork given to us by some of the teachers after our performance, it was clear that the kids found our message—about the importance of being seen for who you are on the inside, not what you look like on the outside—to be welcome and very relevant to their lives.
In April, we shared a collaborative concert with Mosaic Gospel Choir. Our music, responsive to our current political climate, highlighted the interdependence of communities and the need to build the world that we want to live in – rather than waiting for authority figures to do the work. Phoenix is more of an experimental laboratory for that new world than a traditional GALA chorus. Our dominant theme was racial justice, crystalized in Janelle Monae's Hell You Talmbout, drawn from Black Lives Matter—a song that prompted a season-long exploration of issues of appropriation and the best ways for largely white choirs to engage with the topic of racial justice.
To engage and educate our largely white audience, we had an altar and photo/story display about individuals who lost their lives to structural racism (including several of the trans women of color who have been killed so far in 2017) and, together with Showing Up for Racial Justice, a national network that organizes white people working for racial justice, we held a well-attended community dialogue about race. Phoenix's director and accompanist are working on a piece about white fear/white violence, and we also co-organized a multi-choir flash mob for peace at the Pearl Street Mall in Boulder.
Up next for Phoenix is a trans youth family camp in August and a December collaborative concert with the Denver Gay Men's Chorus. View our recent concert with Mosaic Gospel Choir.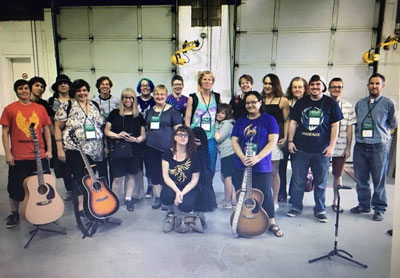 Thank You Letter From Students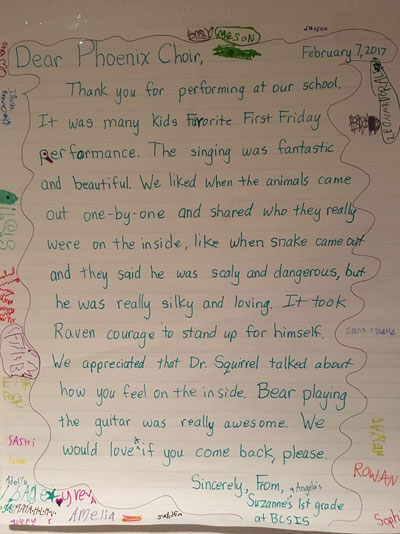 Previous Spotlights

Creating unity in the Spokane and Eastern Washington community by using their voices to raise awareness and support.

A new LGBTQ vocal ensemble which also serves as a gathering of local LGBTQ musicians.

SF's, a cappella pop band of powerhouse soloists, booming beatboxers, and street-real rappers.

The PGMC entertains audiences, supports communities, and fosters acceptance.