Member Spotlight
Working on an interesting outreach project or artistic endeavor with your chorus? We'd like to hear about it. Join the Member Spotlight and submit your chorus story or inspiration. We look forward to shining the spotlight on you!
Philadelphia Gay Men's Chorus
The Philadelphia Gay Men's Chorus (PGMC) entertains audiences, supports communities, and fosters acceptance through exceptional musical performance.
Artistry and Outreach:
The Philadelphia Gay Men's Chorus (PGMC) is wrapping up on their historic 35th Anniversary Season. This past month has been the most exciting yet, and is the best excuse to share this noteworthy news.
PGMC kicked-off the month with an incredible ending to PGMC's main stage performances for the season, with a sold-out production of One Hit Wonders: A Sing-A-Long! PGMC featured a special screening of the "Rise of the Phoenix," while performing "Take On Me." The story is meant to inspire love and compassion through examining coming out within your family and in the sports arena while also addressing awareness for hate, bigotry and violence. The film was a collaborative production and this version incorporates PGMC's vocals:
With no time wasted, PGMC jumped into the PRIDE month spirit by heading to Washington DC, where representatives from nearly 20 gay men's choruses gathered to raise their voices in the fight for LQGBTQ+ equality at The Equality March for Unity and Pride. We made them hear us!
Back in the City of Brotherly Love and Sisterly Affection, PGMC shared the stage with the Commonwealth Youthchoirs at the Kimmel Center for An Evening With Stephen Schwartz. An all Stephen Schwartz program, honoring this Emmy and Tony Award winning composer and his remarkable career in musical theatre, film music, choral music and art songs including songs from Godspell, Pippin, Wicked, Children of Eden, Mass, Prince of Egypt, and It Gets Better.
The Philly POPS, the largest standalone pops orchestra in the United States, publicly announced earlier this month that PGMC will join them on stage on January 19, 2018. This concert will feature Rufus Wainwright himself, which will contain musical highlights from his notable career.
Lastly, PGMC dazzled Philly Pride Parade audiences with their decked out float, singing and dancing! Scooping up their 3rd consecutive year wins with "Best Overall" and "Best Performance." It was "Hot! Hot! Hot!"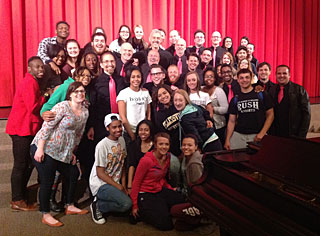 In the past year, The Philadelphia Gay Men's Chorus has performed for thousands of students and conveyed a very simple message: "It is ok to be the person that you have been created to be; you are accepted."
Inspirational Quote:
I absolutely loved it and I found a lot of resemblances in the music with my own story…I was crying at parts, I was laughing, I was holding my heart-it just was a very moving experience for me and honestly, it really inspired me.
— From a Student
<
Previous Spotlights

Creating unity in the Spokane and Eastern Washington community by using their voices to raise awareness and support.

A new LGBTQ vocal ensemble which also serves as a gathering of local LGBTQ musicians.

SF's, a cappella pop band of powerhouse soloists, booming beatboxers, and street-real rappers.

Home for anyone who does not fit neatly into the gender binary, as well as those touched by trans issues.