Member Spotlight
Working on an interesting outreach project or artistic endeavor with your chorus? We'd like to hear about it. Join the Member Spotlight and submit your chorus story or inspiration. We look forward to shining the spotlight on you!
Philadelphia Gay Men's Chorus
Mission Statement
The Philadelphia Gay Men's Chorus entertains audiences, supports communities, and fosters acceptance through exceptional musical performance.
Artistry and Outreach:
In 2014, The Philadelphia Gay Men's Chorus received a grant from the Knight Foundation, with that we also made a commitment to perform 10 assembly programs that same year in area schools.
This commitment solidified the organizations ongoing dedication to the PGMC Outreach Program. We developed a partnership with The Attic Youth Center and its Bryson Institute. Also located in Philadelphia, The Attic, creates opportunities for LGBTQ youth to develop into healthy, independent, civic-minded adults within a safe and supportive community, and promotes the acceptance of LGBTQ youth in society. The Attic's Bryson Institute delivers customized workshops and trainings on best practices for working with LGBTQ Youth in schools, in workplaces, and within organizations.
During the 30-minute concert members of the PGMC share their own coming out stories. Following the concert the leaders from The Attic facilitate discussions in classrooms with students on topics that have been determined in advance by the GSA students/advisor and other leadership in the school. The response from the schools has been overwhelming, and the PGMC looks forward to future outreach programs in the coming years.
Visit their website.
Listen to a sample:
Philadelphia Gay Men's Chorus – When I Knew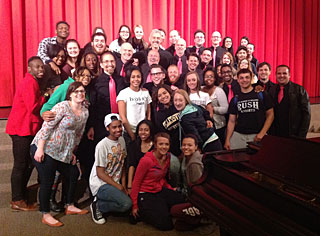 In the past year, The Philadelphia Gay Men's Chorus has performed for thousands of students and conveyed a very simple message: "It is ok to be the person that you have been created to be; you are accepted."
Inspirational Quote:
I absolutely loved it and I found a lot of resemblances in the music with my own story…I was crying at parts, I was laughing, I was holding my heart-it just was a very moving experience for me and honestly, it really inspired me.
— From a Student
Previous Spotlights

Creating unity in the Spokane and Eastern Washington community by using their voices to raise awareness and support.

A new LGBTQ vocal ensemble which also serves as a gathering of local LGBTQ musicians.

SF's, a cappella pop band of powerhouse soloists, booming beatboxers, and street-real rappers.

Home for anyone who does not fit neatly into the gender binary, as well as those touched by trans issues.