Member Spotlight
Working on an interesting outreach project or artistic endeavor with your chorus? We'd like to hear about it. Join the Member Spotlight and submit your chorus story or inspiration. We look forward to shining the spotlight on you!
Paradox Voice Band
Created and managed by Fritz Lambandrake, Paradox Voice Band is San Francisco's professional, a cappella pop band of powerhouse soloists, booming beatboxers, and street-real rappers. PVB constantly covers and mashes up the latest chart-topping hits with the greatest party songs of all time in exciting, musically adventurous ways. All Paradox music is recorded and performed using just singers' voices & bodies – no other instruments. Who needs a piano, bass & drums? Paradox Voice Band IS the piano, bass, & drums and the lead and backup vocals too!
Having just released the full-length, debut pop album, SUPERHERO, mixed and mastered by Grammy-winner Bill Hare, Paradox will release its fifteen-track holiday album this November.
Artistry and Outreach:
Why "Paradox" – what's with the name? PVB bandmates are the unlikeliest combination of straight, gay, trans, and gender-bending professional singers anywhere in the a cappella pop world. All are welcome. Nobody is judged. Comprised equally of Gen X and Millennial talent, every single member of Paradox Voice Band, regardless of actual age, is hot-wired with youthful enthusiasm and a childlike wonder about the magic that happens when singers of every description transcend their differences and choose to make music together. Paradox is Black, White, Hispanic/Latino, Asian, Middle Eastern, Native American; Christian, Agnostic, Atheist, Muslim, Jewish, Buddhist; with every level of ability/disability. Really.. with so little in common, this shouldn't work, but, paradoxically, it does, and it's the music that makes it possible.
Listen To A Sample
Paradox Voice Band – 24K Money-Girl Magic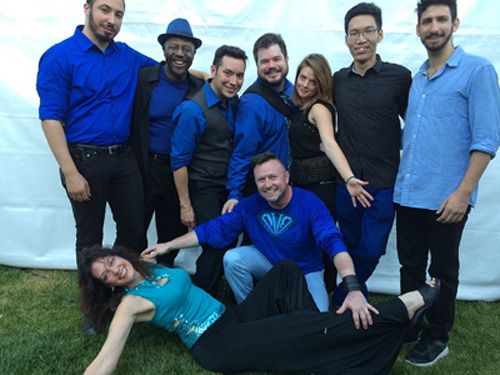 Inspirational Quote:
"Your performance was so authentic, vulnerable, and real – it was like a peek behind the scenes. We feel like we know you, who you really are. We loved every minute of it."
– Dr. Jay Lalezari, San Francisco
Previous Spotlights

Creating unity in the Spokane and Eastern Washington community by using their voices to raise awareness and support.

A new LGBTQ vocal ensemble which also serves as a gathering of local LGBTQ musicians.

Home for anyone who does not fit neatly into the gender binary, as well as those touched by trans issues.

The PGMC entertains audiences, supports communities, and fosters acceptance.