Member Spotlight
Working on an interesting outreach project or artistic endeavor with your chorus? We'd like to hear about it. Join the Member Spotlight and submit your chorus story or inspiration. We look forward to shining the spotlight on you!
Palm Springs Gay Men's Chorus
Mission Statement
To be a chorus of gay men who, through musical excellence, community outreach and civic responsibility, are dedicated to entertaining, inspiring, and educating the culturally diverse community in which we live.
PSGMC is beginning its 18th season providing musical entertainment and community outreach in the Coachella Valley. We pride ourselves as being part of the community. We participate in PS Pride, Desert Aids Project Aids Walk, The Center – Palm Springs, Cathedral City Gay Days, Palm Desert Library Sunday Sounds and many other events. We also provide financial help to every Gay/Straight Alliance in the Coachella Valley High Schools.
Artistry and Outreach:
At our holiday concert last year, we invited the Cathedral City High School Chamber Singers to join us for the Rutter Gloria and other numbers. An announcement was made that the Chamber Singers were raising funds for a spring trip to perform in Carnegie Hall. They would be selling coupon books after the concert. Two of our audience members, following the concert, donated all the funds needed for the students to make the trip. Although some people question having high school students on stage for our concert, the result was more positive than we could ever have anticipated.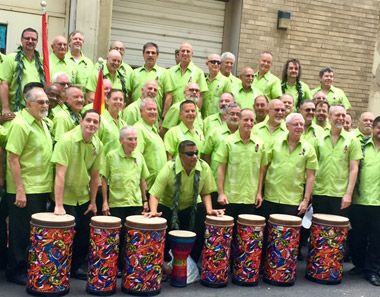 Inspirational Quote:
"The only times when I have witnessed a state approaching the brotherhood of man have been moments of music, when hundreds of hearts beat to the same rhythm and are lifted to the same phrase, when all hate, all envy, all greed are washed away by the nobility of sound. Words are so often the agents of destruction: music can only build."
— Moliere
Previous Spotlights

Creating unity in the Spokane and Eastern Washington community by using their voices to raise awareness and support.

A new LGBTQ vocal ensemble which also serves as a gathering of local LGBTQ musicians.

SF's, a cappella pop band of powerhouse soloists, booming beatboxers, and street-real rappers.

Home for anyone who does not fit neatly into the gender binary, as well as those touched by trans issues.