Member Spotlight
Working on an interesting outreach project or artistic endeavor with your chorus? We'd like to hear about it. Join the Member Spotlight and submit your chorus story or inspiration. We look forward to shining the spotlight on you!
One Voice Mixed Chorus
One Voice Mixed Chorus unites gay, lesbian, bisexual, transgender people and straight allies to build community and create social change by raising our voices in song. One Voice is known for its musical excellence, diverse programming, and deep commitment to community outreach. The 120 singing members range from ages 17 to 75, and the "Fifth Section" boasts more than 50 non-singing volunteers. Watch video vignettes from We Are One Voice – 25th Anniversary Concert.
Whether performing in schools, at community events, or on stage for marquee concerts, One Voice inspires transformation through passionate, vibrant, and creative performances. The award-winning chorus, under the direction of Artistic Director Jane Ramseyer Miller, has performed for thousands of people throughout the Twin Cities, Greater Minnesota and beyond and is described by Chorus America as "one of the region's best ensembles."
Learn more about One Voice Mixed Chorus by visiting their website and YouTube Channel.
OUT in Our Schools
Over 12 years ago, One Voice Mixed Chorus created OUT in our Schools, a program of free in-school concerts that reach over 1,500 students each year. Approximately 60 One Voice singers take vacation time from work each spring to sing in schools. Several years ago One Voice discovered that the quality of engagement was significantly higher when the chorus sang with the students rather than for them. Now Artistic Director, Jane Ramseyer Miller, rehearses with students in each school in advance and these students perform with One Voice for their student body. Watch One Voice school concerts via video.
Transforming our Communities One Voice at a Time
In 2013 One Voice received a Minnesota State Arts Board Touring grant to perform Minnesota Voices in three northern Minnesota communities: Bemidji, Big Fork and Brainerd. In each city, One Voice is partnering with a community chorus that will join One Voice on stage. In addition, the chorus is collaborating with local arts organizations to produce and sponsor each concert, host a community potluck and create opportunities for conversation and interaction. While this kind of outreach work demands significant planning and creativity, the benefits in terms of community engagement and audience development are enormous.
Listen to audio recordings for Minnesota Voices or order a One Voice recording.
Listen to a sample
One Voice Mixed Chorus – Summer Nights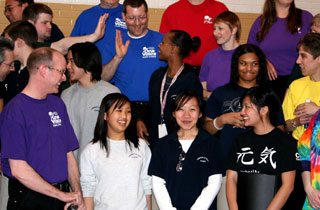 "Our concert with One Voice provided our students a real life opportunity to take a stand for justice. We teach peace and ethics every day. The collaboration gave our students a unique opportunity to walk the talk. Having raised a son who is gay, I was fully aware of the collaboration's tremendous potential for good in the lives of young people. "
–Dr. Karen J. Rusthoven
Principal of Community of Peace Academy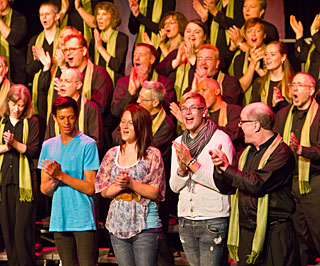 "I saw your bus pull in and felt overwhelming excitement Then, when your singing began, it called up in me one of the deepest joys and a most powerful connection to human consciousness. Thank you for coming out to Greater Minnesota – for being seekers of change and creators of awareness. I am a grateful, re-energized PFLAG mom on the prairies and I plan to see you perform again. "
–A PFLAG mom from Marshall, MN
Previous Spotlights

Creating unity in the Spokane and Eastern Washington community by using their voices to raise awareness and support.

A new LGBTQ vocal ensemble which also serves as a gathering of local LGBTQ musicians.

SF's, a cappella pop band of powerhouse soloists, booming beatboxers, and street-real rappers.

Home for anyone who does not fit neatly into the gender binary, as well as those touched by trans issues.