Member Spotlight
Working on an interesting outreach project or artistic endeavor with your chorus? We'd like to hear about it. Join the Member Spotlight and submit your chorus story or inspiration. We look forward to shining the spotlight on you!
One Voice (Charlotte)
One Voice is the Gay, Lesbian, Bisexual, Transgender, and Gay-Affirming chorus of Charlotte. Next year will be our 25th season! Through artistic excellence, One Voice Chorus works to increase understanding and acceptance of gay, lesbian, bisexual and transgender people. Our achievement in choral music enables us to reach diverse groups to overcome misperceptions and to grow personally, both as performers and as leaders in our community.
Artistry and Outreach:
Our upcoming concert, "HOME," is a concert/documentary on homeless LGBT youth in the Charlotte area. We are partnering with two local organizations which help serve homeless youth: Time Out Youth, and the Urban Ministries Center of Charlotte. One of the (formerly) homeless youth interviewed will be joining us on stage in April to sing his own story with the chorus. Jonathan was kicked out of his home by his father at age 17. The only items he took with him were some clothes and some pictures of his mom, who had died when he was 16. The commissioned piece, "Jonathan's Song," combines his story with the old hymn, "Sweet Hour of Prayer," which his mother used to sing with him on Sundays when he was growing up.
Learn more about One Voice by visiting their website.
Listen to a sample:
One Voice – Take Me Home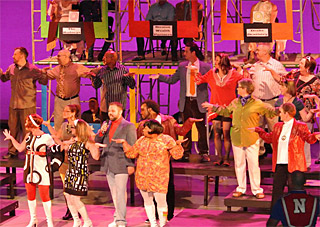 "I joined One Voice with the 'home' theme in mind. I needed a home base while in Charlotte studying. There is nothing quite like a weekly gathering of like-minded individuals to keep me grounded. I'm also proud of the work One Voice is doing with Time Out Youth around the issue of home and homelessness."
— Member, Jon Parker Douglas
Previous Spotlights

Creating unity in the Spokane and Eastern Washington community by using their voices to raise awareness and support.

A new LGBTQ vocal ensemble which also serves as a gathering of local LGBTQ musicians.

SF's, a cappella pop band of powerhouse soloists, booming beatboxers, and street-real rappers.

Home for anyone who does not fit neatly into the gender binary, as well as those touched by trans issues.