Member Spotlight
Working on an interesting outreach project or artistic endeavor with your chorus? We'd like to hear about it. Join the Member Spotlight and submit your chorus story or inspiration. We look forward to shining the spotlight on you!
One Voice Chorus of Calgary
One Voice Chorus (OVC) is Calgary's only mixed-voice chorus for auditioned LGBTQ+ singers. Our vision of success is to make a meaningful and substantive contribution to our city through musical excellence, and to serve as an artistic and community beacon for southern Alberta's LGBTQ+ residents.
OVC made its national debut to great acclaim in May 2014 at Unison, Canada's quadrennial LGBTQ+ choral festival. Having been chosen, along with the Calgary Men's Chorus, to co-host the 2018 festival at home in Calgary, OVC is one of the most preeminent LGBTQ+ choirs in Canada.
Artistry and Outreach:
The theme of our fourth season was LGBTQ+ pride, history, and diversity. By sheer coincidence, our December 2014 concert came at the end of a week of heated controversy on the topic of gay-straight alliances (GSAs) in Alberta's high schools. GSAs are student-led organizations that work to create positive environments for LGBTQ+ students. At the time, it looked as if the proposed provincial legislation would have forced some Alberta students to go to court if they wanted to start a GSA. In response, OVC proudly committed itself to demonstrate support for GSAs and to build bridges with LGBTQ+ youth in Calgary. When the province's MLAs voted nearly unanimously in March 2015 to allow GSAs in every school where a student requests one, Alberta became a national leader for positive change in Canada's ongoing discussions about sexuality and gender expression.
While all that was bubbling, OVC was in rehearsal for our "Club Carousel" concert, which celebrated Calgary's hidden gay history by revisiting the people, places and sounds of the 1960s and 70s, when our city's original gay club was all the rage. The March 2015 concert was the result of a dynamic collaboration between OVC and the ongoing Calgary Queer History Project.
As a result of these and other LGBTQ-oriented activities, OVC has developed a solid fan and volunteer base, and our concerts serve as dynamic social networking hubs for Calgary's vibrant queer community.
Visit us on Facebook
Visit Our Website
View Our YouTube Video – "Loch Lomand" at Unison Festival, May 2014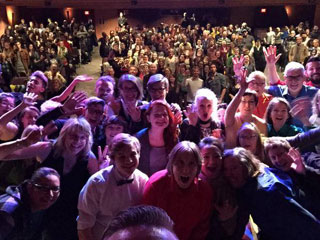 Inspirational Quotes:
"I am feeling so grateful for all of you and this choir. I'm having a rough go at work these days and spend a lot of time feeling like I am somebody else. On Monday nights I feel like I reclaim myself. The joy and kindness I feel at our rehearsals helps to carry me through the week and helps me to stay soft and kind in a world that can be so hard right now. I honestly don't know what I'd do with you all." — OVC singer
"One of my students is a member of One Voice Chorus, and I was lucky enough to attend their concert last night. It was an incredible night full of amazing voices and wonderful positive energy – I've never seen a choir have so much fun!" — Audience member
<
Previous Spotlights

Creating unity in the Spokane and Eastern Washington community by using their voices to raise awareness and support.

A new LGBTQ vocal ensemble which also serves as a gathering of local LGBTQ musicians.

SF's, a cappella pop band of powerhouse soloists, booming beatboxers, and street-real rappers.

Home for anyone who does not fit neatly into the gender binary, as well as those touched by trans issues.