Member Spotlight
Working on an interesting outreach project or artistic endeavor with your chorus? We'd like to hear about it. Join the Member Spotlight and submit your chorus story or inspiration. We look forward to shining the spotlight on you!
New Mexico Women's Chorus
The New Mexico Women's Chorus (NMWC) is a non-auditioned chorus dedicated to including all women, striving for choral excellence, and honoring women-authored or feminist music.
Artistry and Outreach:
Formed in 1994 and performing for the first time with the New Mexico Gay Men's Chorus (NMGMC), NMWC has grown from the original six members, one of whom still sings with us and plays her stand up bass, to more than 30 members. We have partnered with many groups over the years including NMGMC, and recently have done teen outreach with the Albuquerque Reintegration Center, a project through the Juvenile Justice System the helps teens identify with positive role models (us!) and through community service learn how to reintegrate into society. We celebrate our twentieth year this June in a concert entitled "Born This Way." Come and join us!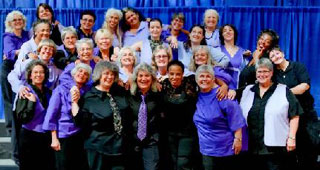 Inspirational Quote:
We believe in changing the world one song at a time…..
Previous Spotlights

Creating unity in the Spokane and Eastern Washington community by using their voices to raise awareness and support.

A new LGBTQ vocal ensemble which also serves as a gathering of local LGBTQ musicians.

SF's, a cappella pop band of powerhouse soloists, booming beatboxers, and street-real rappers.

Home for anyone who does not fit neatly into the gender binary, as well as those touched by trans issues.