Member Spotlight
Working on an interesting outreach project or artistic endeavor with your chorus? We'd like to hear about it. Join the Member Spotlight and submit your chorus story or inspiration. We look forward to shining the spotlight on you!
Knoxville Gay Men's Chorus
Our Mission
The KGMC strives to give entertaining high-quality performances that appeal to all audiences while shedding a positive light on the GLBTQI community.
Our Vision
The Knoxville Gay Men's Chorus wishes to be recognized as a quality group of voices not only in the GLBTQI community, but also the community at large. The KGMC promotes its mission by focusing on the following:
Creating relationships with members, sponsors, and the audience.
Promoting equality by actively encouraging participation of all men regardless of age, race, birth sex, sexual orientation, and religious affiliation.
Striving for excellence by selecting challenging choral pieces for male mixed voices.
Promoting social change and building community in its performances.
Artistry and Outreach:
At a time when it is crucial for our communities to join together in harmony, the formation of the Knoxville Gay Men's Chorus (KGMC) seems a well-tuned endeavor. Across the nation, the unfortunate stories of bullying and youth suicides-even in our own East Tennessee backyard-have sparked an awareness and passion in Americans. Our hearts and focus are primed to strengthen the sense of community and to protect our young people. Music fosters an environment that can create a safe place to be vulnerable and honest, both for singers and their audience. It has helped me find comfort during the most difficult times of my life. I especially remember the feeling of belonging and togetherness when I sang with a choir after 9/11-many voices as one, banded together.
Our founding sponsor is the East Tennessee chapter of GLSEN (Gay-Lesbian-Straight Education Network) and we hope to continue this collaboration and create more safe opportunities for our region's youth, using our songs to show the power and importance of collaborating hearts. This past summer, our first public performance began with a rousing rendition of Bridge Over Troubled Water, which speaks of a dependable community of support. Eventually, we plan to create the Bridge of Harmony Scholarship to reward area students who demonstrate a passion for equality and diversity, both in their lives, and in their schools. Stay tuned for opportunities to contribute to this cause.
Visit their website for more information on the Knoxville Gay Men's Chorus.
Listen to A Sample
Prayer of the Children
https://galachoruses.org/sites/default/files/KGMC-Prayerof-the-Children.mp3#overlay-context=membership/member-spotlight/knoxville-gay-mens-chorus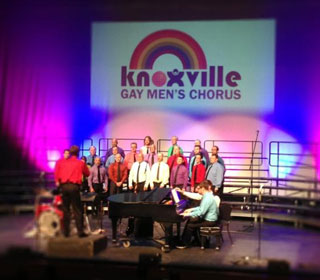 We gather together valuing three things: community, music, and the idea that sharing our common stories (through music) is an invaluable political and social tool. Tony Award winning Avenue Q writer Jeff Whitty recently was quoted as saying, "In this day and age to manifest joy in an audience is subversive. To create happiness and leave people grinning from ear to ear when they leave the theater is sort of the most rebellious thing you can do nowadays!" In that regard, we are, indeed, rebels.
Previous Spotlights

Creating unity in the Spokane and Eastern Washington community by using their voices to raise awareness and support.

A new LGBTQ vocal ensemble which also serves as a gathering of local LGBTQ musicians.

SF's, a cappella pop band of powerhouse soloists, booming beatboxers, and street-real rappers.

Home for anyone who does not fit neatly into the gender binary, as well as those touched by trans issues.