Member Spotlight
Working on an interesting outreach project or artistic endeavor with your chorus? We'd like to hear about it. Join the Member Spotlight and submit your chorus story or inspiration. We look forward to shining the spotlight on you!
GenOUT Youth Chorus
GenOUT, the youth outreach program of the Gay Men's Chorus of Washington, DC, empowers lesbian, gay, bisexual, transgender, questioning and allied youth, using the mission of the Chorus to create and nurture positive and affirming life experiences for all people.
Artistry and Outreach:
GMCW is sponsoring the Nation's Capital first ever LGBTQ and allies youth chorus. The purpose of this group is to provide a safe space for LGBTQ teens and allies to express themselves, find peer support, and explore social justice issues through song.
Despite lots of national attention on youth suicide and bullying related to LGBTQ issues, the problem of teens feeling isolated doesn't seem to be going away. GMCW is using what it knows best – music – to help solve that problem locally. Sometimes it's just easier to say things through song.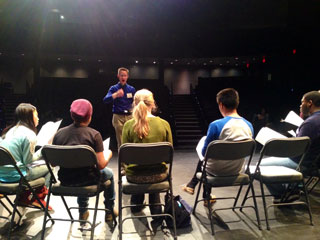 Inspirational Quote:
A mother recently wrote to us after the first rehearsal in which her adopted Russian daughter volunteered for a solo: "One thing is for sure is that she hasn't been able to find anyone on a peer level to connect with. As a mother, this has been heartbreaking…Music just makes sense to her when many other areas in life does not. This group you have created is just wonderful. It is something we have been looking for and it fell in our laps."
Previous Spotlights

Creating unity in the Spokane and Eastern Washington community by using their voices to raise awareness and support.

A new LGBTQ vocal ensemble which also serves as a gathering of local LGBTQ musicians.

SF's, a cappella pop band of powerhouse soloists, booming beatboxers, and street-real rappers.

Home for anyone who does not fit neatly into the gender binary, as well as those touched by trans issues.