Member Spotlight
Working on an interesting outreach project or artistic endeavor with your chorus? We'd like to hear about it. Join the Member Spotlight and submit your chorus story or inspiration. We look forward to shining the spotlight on you!
The Gay Men's Chorus of Washington, DC
The Gay Men's Chorus of Washington, DC (GMCW), is one of the oldest LGBT choral organizations in the United States. With more than 300 singing members, it is also one of the largest. The chorus' mission is that it "delights audiences and champions gay equality with robust artistry, fun, and surprise."
Artistry and Outreach:
Earlier this month, 21 singers of the GMCW travelled to Cuba for a 9-concert tour to promote LGBTQ equality and social justice. They were the first American gay chorus to travel to the island nation since relations with the U.S. have been restored. They performed for community centers, government officials, children's dance companies, and senior citizens in and around Havana. The reception was overwhelmingly positive as the universal language of music broke down barriers and opened hearts and minds, yielding powerful conversations between the singers and the local residents about social justice and equality.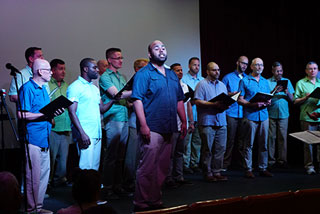 Inspirational Quote:
"Arts is the greatest path to the truth."
– Mariela Castro, after she heard us sing
Previous Spotlights

Creating unity in the Spokane and Eastern Washington community by using their voices to raise awareness and support.

A new LGBTQ vocal ensemble which also serves as a gathering of local LGBTQ musicians.

SF's, a cappella pop band of powerhouse soloists, booming beatboxers, and street-real rappers.

Home for anyone who does not fit neatly into the gender binary, as well as those touched by trans issues.