Member Spotlight
Working on an interesting outreach project or artistic endeavor with your chorus? We'd like to hear about it. Join the Member Spotlight and submit your chorus story or inspiration. We look forward to shining the spotlight on you!
The Gay Men's Chorus of South Florida
The Gay Men's Chorus of South Florida (GMCSF) started in September 2010 as the dream of a few men who wanted to sing in a chorus and make great music. That dream continues to be realized and fulfilled in ways that can only be considered extraordinary. Now in its sixth year, The GMCSF has grown to over one-hundred-and-fifty men, becoming one of the largest gay men's choruses in the Southeastern United States. The chorus has sold out every concert, and has put into practice its commitment of "Inspiring Through Song."
The GMCSF was the first Gay Men's Chorus to be invited to sing with the Symphony of the Americas (on the occasion of that symphony's twenty-fifth anniversary celebration); and was the first chorus ever to be invited to sing during the thirty-three year run of the very prestigious Sunday Afternoons of Music at the Gusman Center at the University of Miami. In 2013 PBS station WLRN filmed and presented to the community Heaven and Nature Sing, the Chorus's sold-out holiday concert.
The Chorus has also been determined to give back to the community that has supported and nurtured its success and growth: providing over a thousand teddy bears to the Broward County Hospitals Pediatric Auxiliary; chaperoning at a gay youth prom; walking and raising money for the South Florida AIDS walk; bowling for the Poverello Food Bank; and donating time and talent to a host of other charitable endeavors in the community. The GMCSF works diligently to fulfill its mission "to inspire audiences, move spirits, open minds and change hearts through the quality of our music, the power of our words and the sight of our joy."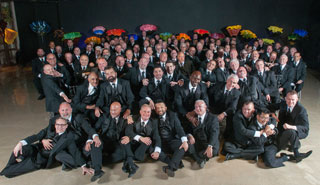 Previous Spotlights

Creating unity in the Spokane and Eastern Washington community by using their voices to raise awareness and support.

A new LGBTQ vocal ensemble which also serves as a gathering of local LGBTQ musicians.

SF's, a cappella pop band of powerhouse soloists, booming beatboxers, and street-real rappers.

Home for anyone who does not fit neatly into the gender binary, as well as those touched by trans issues.