Member Spotlight
Working on an interesting outreach project or artistic endeavor with your chorus? We'd like to hear about it. Join the Member Spotlight and submit your chorus story or inspiration. We look forward to shining the spotlight on you!
Dreams of Hope Performance Troupe
Formed in 2003, Dreams of Hope's Performance Troupe of lesbian, gay, bisexual, transgender, queer (LGBTQ) and allied youth may be Pittsburgh's most courageous performing arts group. Creating and performing new works of drama, song, dance and poetry, all based on the young people's experience, the Troupe's goals include growing LGBTQA youth in to leaders who educate audiences about issues they face. Each performance includes a youth led discussion, bringing answers to the questions asked by those in the crowd. Celebrating who they are through the arts, these creative youth speak out about their personal experiences as gay, lesbian, bisexual, transgender, queer and straight youth today.
Artistry and Outreach
Each season these outstanding, creative and brave youth perform 18 to 20 outreach shows at non-traditional venues such as community centers, government agencies, houses of worship, political leaders offices, universities, high schools, corporate diversity lunches, and union halls, in addition to our Season Preview in January and a Season Finale in June. Videos, including those filmed at the 2012 GALA Conference, can be found on our Youtube page.
Listen to a sample Dreams of Hope – HostBully to the Brink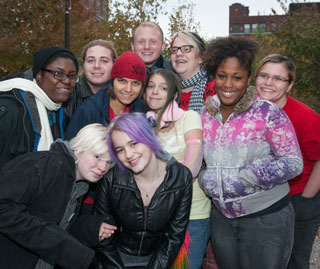 Performance Troupe Audience Survey Respondents
"Very brave young people that are very talented! Keep doing whatyou're doing and things will get better." "The show is informative, educational, compassionate and teaches understanding and tolerance." "As a teacher, I will step up my game to stop bullying even more than I do now." "I admire these courageous young adults for educating and sharing their stories." "Great opportunity for these young people and also the audiences who see them perform."
Previous Spotlights

Creating unity in the Spokane and Eastern Washington community by using their voices to raise awareness and support.

A new LGBTQ vocal ensemble which also serves as a gathering of local LGBTQ musicians.

SF's, a cappella pop band of powerhouse soloists, booming beatboxers, and street-real rappers.

Home for anyone who does not fit neatly into the gender binary, as well as those touched by trans issues.