Member Spotlight
Working on an interesting outreach project or artistic endeavor with your chorus? We'd like to hear about it. Join the Member Spotlight and submit your chorus story or inspiration. We look forward to shining the spotlight on you!
Diverse Harmony
Diverse Harmony is the nation's first queer-straight* alliance youth chorus. Based in Seattle, Washington, their 58-member chorus presents music that opens the hearts and minds of communities and provides a safe environment for youth of diverse backgrounds to share their love of music and be accepted for who they are.
Over thirteen seasons, they have brought performances to communities throughout Seattle in their regular two-concert season. The chorus has also performed tours to Denver, Chicago, Montreal, Miami, and Portland. Diverse Harmony is a member of GALA Choruses (the Gay and Lesbian Association of Choruses) and is considered a leading youth chorus among its membership due to their longevity and large membership.
In tandem with their successful performances, Diverse Harmony serves as a safe space for their singers, youth age 13 to 22 who identify as queer, gay, lesbian, bisexual, transgender, questioning, and allied. Weekly rehearsals have become a home base for many of the youth where they can feel respected and accepted, and have fun making music together.
Ther Vision
Our vision is a world in which differences are celebrated.
Our mission is to create a safe, affirming environment where each person is accepted for who they are.
Our common bond is the love of music and performance arts.
We use our passion and the power of music to inspire all to celebrate the differences in our homes, communities and the world.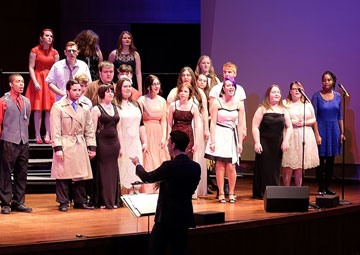 Previous Spotlights

Creating unity in the Spokane and Eastern Washington community by using their voices to raise awareness and support.

A new LGBTQ vocal ensemble which also serves as a gathering of local LGBTQ musicians.

SF's, a cappella pop band of powerhouse soloists, booming beatboxers, and street-real rappers.

Home for anyone who does not fit neatly into the gender binary, as well as those touched by trans issues.