Member Spotlight
Working on an interesting outreach project or artistic endeavor with your chorus? We'd like to hear about it. Join the Member Spotlight and submit your chorus story or inspiration. We look forward to shining the spotlight on you!
Cor Flammae
Cor Flammae is Vancouver's summer chorus of classically trained, queer singers, performing queer content. Composed from the ranks of the city's top-flight choral ensembles and singers, the choir seeks to reveal the hidden queer heritage often ignored in the conservative world of classical music.
Artistry and Outreach:
In their first season (Summer 2014) Cor Flammae performed a sold-out concert of all queer content with the Vancouver Queer Arts Festival, premiered two new works by queer composers Catherine Laub and Michael Park, sang with Seattle's Diverse Harmony on their tour to Vancouver, and performed a pop-up performance for the Vancouver Queer Film Festival.
Listen to A Sample
Cor Flammae – Menotti Intro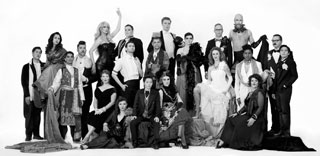 Inspirational Quote:
"It is cruel, you know, that music should be so beautiful. It has the beauty of loneliness and of pain: of strength and freedom. The beauty of disappointment and never-satisfied love. The cruel beauty of nature and everlasting beauty of monotony."
– Benjamin Britten
Previous Spotlights

Creating unity in the Spokane and Eastern Washington community by using their voices to raise awareness and support.

A new LGBTQ vocal ensemble which also serves as a gathering of local LGBTQ musicians.

SF's, a cappella pop band of powerhouse soloists, booming beatboxers, and street-real rappers.

Home for anyone who does not fit neatly into the gender binary, as well as those touched by trans issues.