Member Spotlight
Working on an interesting outreach project or artistic endeavor with your chorus? We'd like to hear about it. Join the Member Spotlight and submit your chorus story or inspiration. We look forward to shining the spotlight on you!
Confluence: Willamette Valley LGBT Chorus
Created in 2000, Confluence is a non-auditioned chorus which sings to celebrate and affirm the lives of lesbian, gay, bisexual, and transgender people, along with building bridges of all people. We strive to create high quality music without being "stuffy". We engage in community outreach and promote Oregon civic pride and provide cultural and educational enrichment for ourselves and our community.
Artistry and Outreach:
Confluence performs 3 concerts, 3 shows each in 3 different cities (Salem, Portland, Corvallis)each season. We have toured all over Oregon from Ashland to Bend to Astoria. We have performed at multiple pride events and fundraisers events for LGBT Youth, PFLAG, and AIDS Organizations.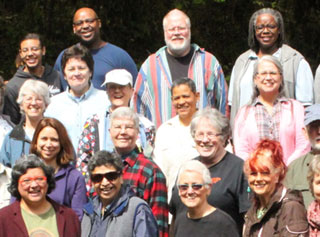 Previous Spotlights

Creating unity in the Spokane and Eastern Washington community by using their voices to raise awareness and support.

A new LGBTQ vocal ensemble which also serves as a gathering of local LGBTQ musicians.

SF's, a cappella pop band of powerhouse soloists, booming beatboxers, and street-real rappers.

Home for anyone who does not fit neatly into the gender binary, as well as those touched by trans issues.