Member Spotlight
Working on an interesting outreach project or artistic endeavor with your chorus? We'd like to hear about it. Join the Member Spotlight and submit your chorus story or inspiration. We look forward to shining the spotlight on you!
Calliope Women's Chorus
Calliope Women's Chorus is a feminist chorus dedicated to promoting social change through song. Since 1976, we've been producing concerts and performing for public events to bring quality social justice-themed music to our community. Calliope members are lesbian, bisexual and heterosexual. We welcome women to join us in singing with excellence and pride. Our concert themes and programming promote social change through increasing awareness about the subject of each concert and "keeping hope alive" for the people who work for change.
Artistry and Outreach:
Calliope is celebrating our 40th anniversary next year and good things are happening. This spring we participated in the first annual Northern Voice Festival of choral music (along with our fellow GALA members One Voice Mixed Chorus and Twin Cities Gay Men's Chorus). An even bigger honor was the invitation to be one of three choruses to perform at Minnesota Public Radio's Harmony in the Park concert. We topped off June 2015 with performances at Twin Cities Pride and the East Central Minnesota Pride Picnic.
Listen To A Sample:
Calliope Women's Chorus – Song of Peace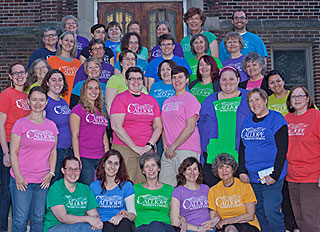 Inspirational Quote:
It's important to "have women's voices speaking our truth in an artistic way. Being women who are visible and willing to stand up and say things that are important. To claim our rights."
-Jeann Cornish, singer
Previous Spotlights

Creating unity in the Spokane and Eastern Washington community by using their voices to raise awareness and support.

A new LGBTQ vocal ensemble which also serves as a gathering of local LGBTQ musicians.

SF's, a cappella pop band of powerhouse soloists, booming beatboxers, and street-real rappers.

Home for anyone who does not fit neatly into the gender binary, as well as those touched by trans issues.