Member Spotlight
Working on an interesting outreach project or artistic endeavor with your chorus? We'd like to hear about it. Join the Member Spotlight and submit your chorus story or inspiration. We look forward to shining the spotlight on you!
Calgary Men's Chorus
The Calgary Men's Chorus Society achieves excellence in the performance of choral music, creates a nurturing musical and social environment, and garners the respect of both the music community and the community at large. Most of our singers are gay and bi men, but we welcome men of all sexual orientations.
Artistry and Outreach:
The Calgary Men's Chorus believes in the power of music and in its ability to build bridges and tear down walls and has used their talent to establish their role in the Arts Community of Calgary. Diverse and adventurous, their performances with Flamenco Dancers, Inuit Throat Singers, Synchronized Swimmers and Aerialists have all assisted in achieving this goal. The Chorus believes in reaching out to others and in lending a hand and has supported many causes with their talent; flood relief for a Women's Shelter, fund-raising for Child Find Alberta and performances at Camp fYrefly (local camp for LGBTQ Youth) are examples of rewarding endeavours. Our members truly love to sing, and they thrive in their collaborations with other Choruses and Artists.
Our goal is to do more than just to perform. We present beautiful music and we bring diverse communities together, paving the way for acceptance and understanding.
Listen to A Sample
Calgary Men's Chorus – Homeward Bound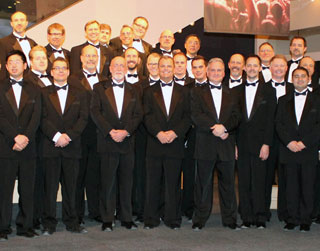 Inspirational Quote:
"I look forward to every heart felt, emotional & fun performance. Always blown away by the talent & creativity of the Calgary Men's Chorus!"
Cindie, an avid fan
Previous Spotlights

Creating unity in the Spokane and Eastern Washington community by using their voices to raise awareness and support.

A new LGBTQ vocal ensemble which also serves as a gathering of local LGBTQ musicians.

SF's, a cappella pop band of powerhouse soloists, booming beatboxers, and street-real rappers.

Home for anyone who does not fit neatly into the gender binary, as well as those touched by trans issues.