Member Spotlight
Working on an interesting outreach project or artistic endeavor with your chorus? We'd like to hear about it. Join the Member Spotlight and submit your chorus story or inspiration. We look forward to shining the spotlight on you!
Anna Crusis Women's Choir
Formed in 1975, Anna Crusis Women's Choir was the first feminist women's choir in the USA. The chorus is known for its multicultural eclectic repertoire, a cappella vocal excellence, music for, by and about women, and content which strives to address the most pressing issues of our time and communities.
Artistry and Outreach
Anna Crusis' spring concert and GALA Festival performance feature a new composition, funded by a GALA Joyner/Murphy Commission Grant, which combines the original poetry of area youth with original music composed by Philadelphia-based Cynthia Folio. Their winter season included many outreach performances: the Christian Movement for LGBT Equality, International Women's Day Philadelphia Coalition, the Metropolitan Community Church of Philadelphia, supporting LGBT organizations and "Sho-So-Ever and Project H.O.M.E.'s Finding Home mural dedication, participation at the 8th Annual PA Conference for Women and two public, winter concerts.
Listen to a sample Anna Crusis Women's Choir – Shooting Star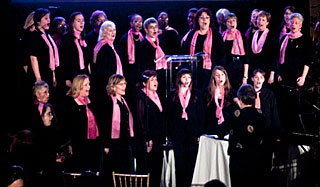 "I am always inspired by the way Anna Crusis honors and celebrates the music of women through their unique commissions, clever programming and deep commitment to offering their music in the community."
Jane Ramseyer Miller Artistic Director, One Voice Mixed Chorus
Previous Spotlights

Creating unity in the Spokane and Eastern Washington community by using their voices to raise awareness and support.

A new LGBTQ vocal ensemble which also serves as a gathering of local LGBTQ musicians.

SF's, a cappella pop band of powerhouse soloists, booming beatboxers, and street-real rappers.

Home for anyone who does not fit neatly into the gender binary, as well as those touched by trans issues.