Member Spotlight
Working on an interesting outreach project or artistic endeavor with your chorus? We'd like to hear about it. Join the Member Spotlight and submit your chorus story or inspiration. We look forward to shining the spotlight on you!
Allegrezza
Allegrezza is an SATB chorus comprised of auditioned singers based in the beautiful neighborhood of Lakeview just north of downtown Chicago. We believe that all people should not only be embraced but celebrated for who they are. Allegrezza means joyfulness in Italian, and through our song, we will show acceptance and joy for all people.
Artistry and Outreach:
As part of our mission, 20% of the proceeds from our performances for the past few years have gone to Care For Real. The Care For Real mission is, "to help our neighbors in the Edgewater community by providing food, clothing and counseling services to those in need. We do this through on-site food distribution, deliveries to the homebound, a free clothes closet and a case-management program to help clients connect with other services they may need". We believe that not only can we provide joy through our music and our time, but also through financial support to organizations that need assistance. We believe that through our own success as a non profit organization we should also support other organizations with a similar mission. Care For Real has been our partner for several years now and we are very proud to support them!
Listen to a sample:
Allegrezza – And So It Goes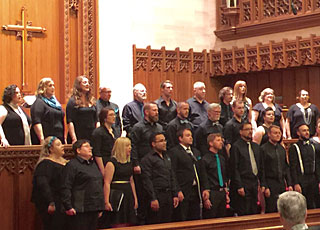 Inspirational Quote:
"We came to see Allegrezza perform in Chicago at their most current concert "Songs of the Night". We came to be supportive of the Artistic Director, Stephen Edwards but left a true fan of the group and completely blown away by the talent showcased that evening! What an incredible group of singers!"
— Audience Member
Previous Spotlights

Creating unity in the Spokane and Eastern Washington community by using their voices to raise awareness and support.

A new LGBTQ vocal ensemble which also serves as a gathering of local LGBTQ musicians.

SF's, a cappella pop band of powerhouse soloists, booming beatboxers, and street-real rappers.

Home for anyone who does not fit neatly into the gender binary, as well as those touched by trans issues.