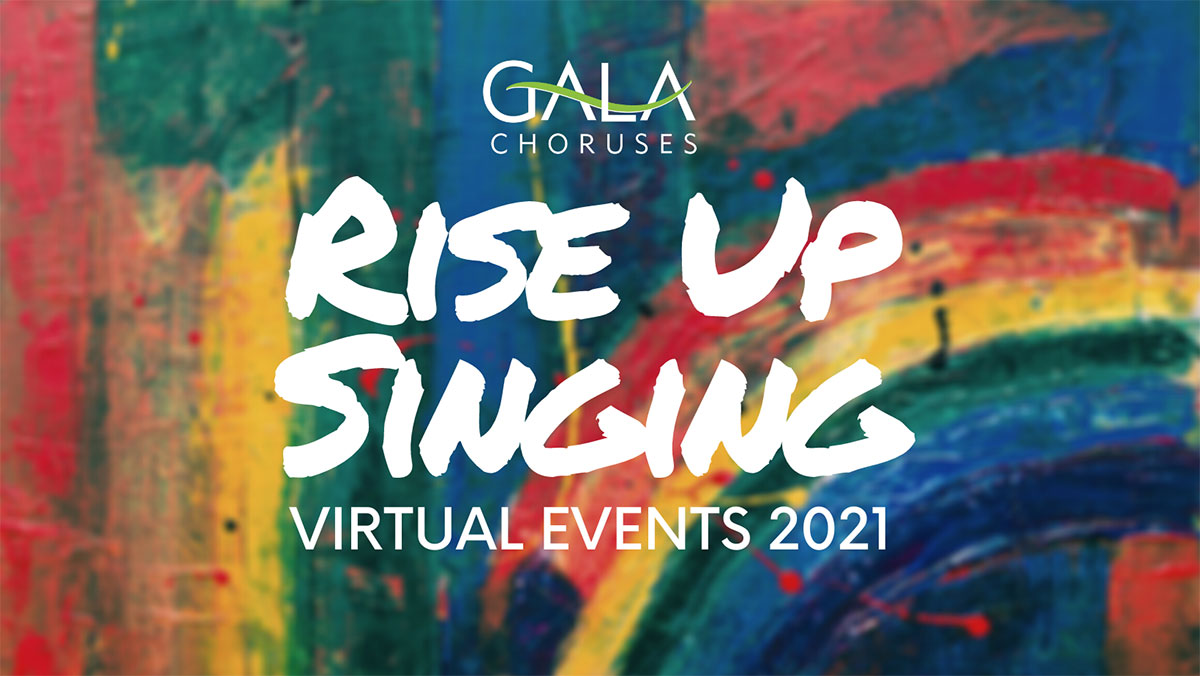 GALA Choruses  |  Rise Up Singing  |  Virtual Events 2021
GALA Choruses presents a 2021 series of virtual concerts and conversations to elevate our vision of a world where all voices are free. REGISTER for a current Rise Up Singing event: https://galachoruses.streamallytix.com.
Schedule of Events
Note: Details will be added as dates are confirmed. Stay tuned!
Naked Man 25th Anniversary Retrospective
Wednesday, June 16 at 8pm EDT / 5pm PDT
(encore) Tuesday, June 22 at 11pm EDT / 8pm PDT
(encore) Thursday, June 24 at 9pm EDT / 6pm PDT
Celebrate the 25th anniversary of the premiere of Naked Man, a ground breaking commission by the San Francisco Gay Men's Chorus. The event includes conversations with composer Robert Seeley, conductor Stan Hill and singer Clint Johnson. Enjoy a performance of the entire Naked Man commission from the 2016 GALA Choruses Festival in Denver.
Devotion: A Celebration of GALA Choruses
Sunday, June 27 at 4pm EDT / 1pm PDT
In a year when we almost lost the GALA Choruses organization, Coro Allegro shines a light on the shared devotion between GALA and its member choruses through the prism of our journey of mutual inspiration and evolution. Join us for music and stories from composers, conductors, singers, and LGBTQ+ advocates on the impact of Festival, as we honor the GALA board and staff with the Daniel Pinkham Award and celebrate raising our voices together for LGBTQ+ rights worldwide.
Guests include: Robin Godfrey (GALA Choruses), Jane Ramseyer Miller (GALA Choruses and One Voice Mixed Chorus); Kenneth Fuchs (Grammy-award winning composer), Eric Banks (composer and Director of the Esoterics), Reginald L. Mobley, (countertenor & co-author of the Black Voices Matter pledge), John Abdallah Wambere (Founder of AmeriGanda), Janson Wu (Executive Director of GLAD, GLBTQ Legal Advocates and Defenders), Craig Coogan (Executive Director of the Boston Gay Men's Chorus). Michael Tate (GALA Choruses and the San Francisco Gay Men's Chorus). Sam Brinton (The Trevor Project and Gay Men's Chorus of Washington, DC), and other alumni and members of Coro Allegro.
July — GALA Virtual Festival 2021
Join us for a series of historic and current events celebrating GALA Choruses!
Blockbuster 2012 Retrospective: Our Legacy=Our Song
Wednesday, July 7 at 8pm EDT / 5pm PDT
This concert from Festival 2012 tells the 45-year history of GALA choruses through commissioned compositions and stories of the GALA movement told by Vanessa German and Dan Savage.
Coffee Concert: Portraits of Pulse
Thursday, July 8 at 8pm EDT / 5pm PDT
The Orlando Gay Chorus recounts the story of the Pulse murders as seen through the eyes of JD Casto, a local gay photographer and film-maker. The performance includes interviews with the director and photographer.
Coffee Concert: A Roof and a Bed
Friday, July 9 at 8pm EDT / 5pm PDT
The Portland Lesbian Choir explores the poignancy of home through a stirring song set featuring two new commissions: a setting of poetry by homeless women, and a troubled youth's journey to find home.
A Song of Courage
Saturday, July 10 at 8pm EDT / 5pm PDT
This 2008 documentary video by Shawn Northcutt tells the history of the LGBTQ choral movement through interviews with artistic directors, board members and singers. GALA Board President Michael Tate offers an introduction to the film and its significance in GALA's history.
GALA Youth Choruses Showcase
Sunday, July 11 at 5pm EDT / 2pm PDT
(encore performances TBD)
Join us for the closing event in our Virtual GALA Festival. This collaboration concert features poetry, original compositions, stories and choral music from LGBTQ youth. Performers include Bridging Voices (Portland, OR);  GenOUT Youth Chorus (Washington, DC); Major Minors (Nashville, TN); San Diego Queer Youth Chorus (San Diego, CA); THEM (Tucson, AZ); Youth Pride Chorus (New York City, NY).
Fall and Winter 2021
Coffee Concert: Unsung
Monday, August 16 at 8pm EDT / 5pm PDT
Kansas City Women's Chorus performs Eric Lane Barnes' new commission which is a powerful reminder of groundbreaking women who led the way in the fight for equality and the furthering of women's rights.
Coffee Concert: ReMembering - Singing Water
Friday, September 24 at 8pm EDT / 5pm PDT
One Voice Mixed Chorus, Minnesota's LGBTQ and allies chorus, explores Minnesota as a place of both home and exile for immigrants, LGBTQ people and Indigenous people. Large scale puppets, choral music, and true stories are woven together through themes of water.
Transgender Voices
October (date TBD)
Featuring a new commission by two transgender artists, composer Mari Esabel Valverde and poet Lady Dane Figueroa Edidi, this concert honors the November Transgender Day of Resilience. Includes interviews with the composer and poet.
Coffee Concert: Street Requiem
November (date TBD)
South Coast Chorale performs a modern Requiem enhanced with English, African and Persian lyrics. The composition explores the communities and individuals affected by homelessness and violence on the streets. Includes interviews with the composer and conductor.
Blockbuster: Global Momentum
December (date TBD)
The concluding concert of GALA's 2021 Virtual Festival Season features interviews, stories and performances by LGBTQ choirs across the world.
Past Events
ACDA National GALA Choruses Concert
Sunday, March 21 at 5pm EDT / 2pm PDT
(encore) Wednesday, March 24 at 11pm EDT / 8pm PDT
(encore) Friday, March 26 at 9pm EDT / 6pm PDT
The American Choral Directors Association (ACDA) March national conference featured the first-ever ACDA National GALA Chorus' Set. This concert was streamed for the public on March 21 and features performances by the Turtle Creek Chorale, Austin Gay Men's Chorus, Our Song-Atlanta's Gay & Lesbian Chorus, and San Diego Women's Chorus, , as well as interviews with former Artistic Director of the New York City Gay Men's Chorus Gary Miller and former Artistic Director of the Seattle Women's and Men's Choruses Dennis Coleman.
Webinar: Back to the Future
Thursday, April 15 at 8pm EDT / 5pm PDT
Join us for a new webinar on Planning a Return to a Live Season, Planning for In-Person Rehearsals, Legal and Liability Issues, Preparing for Live Performances, and Re-connecting with Singers and Audience.
Rise Up!
Thursday, April 22 at 8:00-9:15pm EDT / 5pm PDT
(encore) Saturday, April 24 at 11pm EDT / 8pm PDT
(encore) Monday, April 26 at 9pm EDT / 6pm PDT
(encore) Tuesday, May 4 at 8pm (EDT) / 5pm (PDT)
(encore) Thursday, May 13 at 10pm (EDT) / 7pm (PDT)
GALA presents Rise Up!, exploring music and social justice in collaboration with Berkshire Choral International. The event includes performances and conversation with Eugene Rogers (The Washington Chorus), Tesfa Wondemagegnehu (St. Olaf College) and Alysia Lee (Sister Cities GirlChoir).
Hear Me Roar: 50 Years of Feminist Choruses
Sunday, May 23 at 6pm EDT / 3pm PDT
(encore) Wednesday, May 26 at 9pm EDT / 6pm PDT
(encore) Friday, May 28 at 11pm EDT / 8pm PDT
Hear Me Roar explores the stories and music of feminist choruses from their beginnings, addressing women's rights and feminism, to a current focus on racial justice, gender justice, and equity. Guests include Catherine Roma (World House Choir), Alysia Lee, (Sister Cities Girlchoir). Jillian Harrison-Jones (MUSE: Cincinnati's Women's Choir), Miriam Davidson (ANNA Crusis Feminist Choir). Collaboration with Berkshire Choral International.
Webinar: Ask an Expert—Digital Marketing
Monday, June 21 at 8pm EDT / 5pm PDT
$20 admission (to support presenter costs)
Have a digital marketing question? We've got you covered! Join us for a conversation with consultants from Capacity Interactive, who will draw on their vast experience working with arts nonprofits to help you navigate your marketing challenges. Whether you're a beginner or a marketing guru, feed your curiosity with this interactive and collaborative session.
Becky Ludkiewicz is a Senior Consultant at Capacity Interactive. In her six+ years with CI, she has collaborated with more than 70 clients spanning numerous arts genres and budget sizes. She previously worked for the New Jersey Symphony Orchestra and received her BA and MBA from the University of Delaware. She loves a good (or bad) pun!

Madeline Pollis is the Industry Enrichment Content Producer & Assistant to the President at Capacity Interactive. A former opera singer and eternal choir nerd, Madeline joined Capacity Interactive in 2018, where she produces the CI to Eye podcast and CI to Eye Live! She also works on the Arts Industry Digital Marketing Benchmark Study, Performing Arts Ticket Buyer Media Usage Study, and is part of the team that produces Digital Marketing Boot Camp for the Arts.
"Capacity Interactive is the premier digital marketing consulting firm for the arts. We partner with leading arts and cultural organizations to help them build audiences, engage community and market smarter." (-from CI's website). Clients include the Kennedy Center, New York City Ballet, Alvin Ailey American Dance Theater, Carnegie Hall, Chicago Symphony Orchestra, Los Angeles Philharmonic, Lincoln Center for the Performing Arts, and the Royal Court Theatre.
Space is limited so reserve your ticket now! A recording of this webinar will be made available to those who paid admission. So, even if you can't make it on the 6/21, you won't miss a thing!
Registration is now open for Naked Man 25th Anniversary Retrospective
Visit https://galachoruses.streamallytix.com/ to reserve your show link today.
Most events for GALA Choruses' Rise Up Singing will be free (pay what you can) through our streaming partner Stream Ally. Some may require a cost for admission to support our programming.
As always, GALA Choruses relies on your continued support. Thank you for all that you do to change the world through song.
If you can, please give! https://galachoruses.org/donate/